Jeremy Scott broke Instagram today with his Barbie-inspired spring and summer 2015 collection for Moschino. Some of the collection is already available online, including this instant classic, a Barbie mirror cell phone case: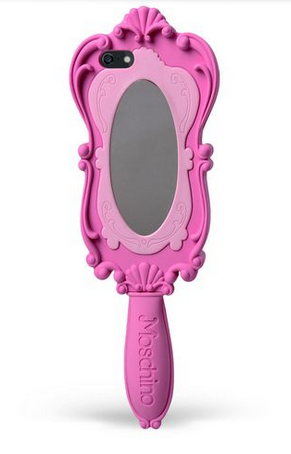 The clothes this time around were just as outlandish as last season's tribute to McDonald's and Spongebob, but somehow more wearable — especially if Elle Woods is one of your all-time style icons. We're hoping Mr. Scott's bestie, Miley Cyrus, will find ways to incorporate these looks into her day-to-day attire.
Front-row-sitters received Moschino-branded Barbie dolls:
Coco Rocha wore a Moschino gown that looks ripped from Anna Dello Russo's Pilates-toned bod:
http://instagram.com/p/tGR0aIy5Sv/?modal=true
The models' skin had a plasticine sheen from head to pump:
Hair was very big and bouncey:
http://instagram.com/p/tGSwsuP8L9/?modal=true
A model rolled down the runway on skates:
Hot pink was ubiquitous:
http://instagram.com/p/tGTDSvshz5/?modal=true
Mr. Scott continued to eschew minimalism in any form:
http://instagram.com/p/tGRXoXS5SA/?modal=true
Despite Barbie's career-girl reputation, many of the looks would be questionable at the office:
Does this look count as daywear or nightwear? Does it matter?
The final look was a sci-fi creation with what looks to be about a three-foot wingspan. Can someone please bring this gown to red-carpet fruition? We're looking at you, Miley.