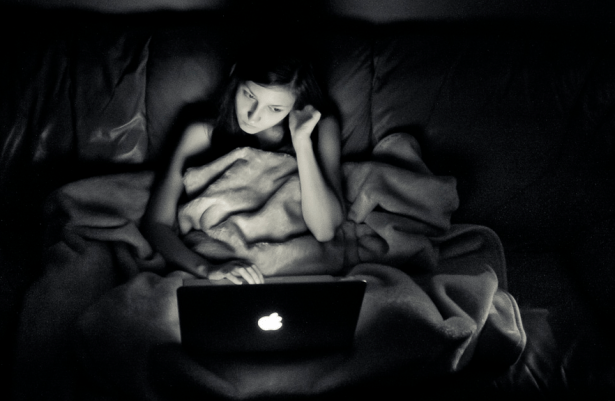 A couple of years ago, porn producer and director Colin Rowntree started feeling that mainstream search engines, like Google and Bing, where "trying to ghettoize the adult entertainment industry," as he puts it. Google "blow job," and you generally have to click through three pages of totally un-sexy content — you know, like a Wikipedia entry on the phrase's etymology — before you actually arrive at the porn sites you were looking for in the first place.
"It's this corporate cowardice thing that's been going on the last several years," he told me over the phone. "Mainstream companies that have investors [or are] trying to go public [are] trying to distance themselves completely from adult entertainment."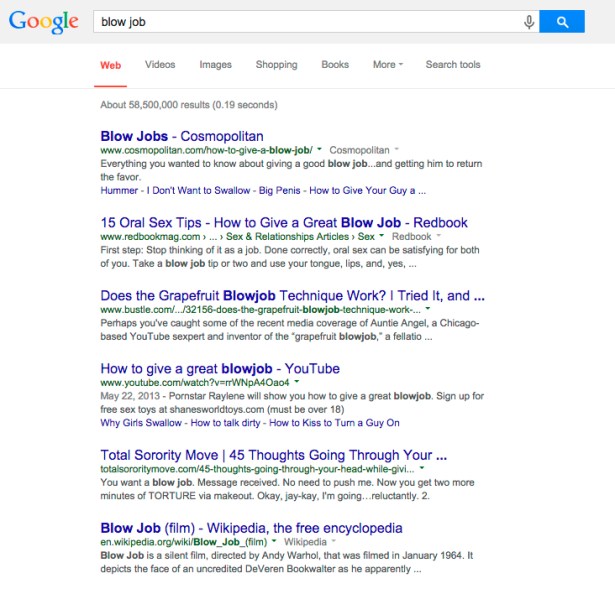 Mr. Rowntree cites tumblr as the most recent example; a few months ago, the site made it significantly harder for users to search for pornographic content — despite the fact that the site is chock-full of it.
Proving that necessity is the mother of invention, Mr. Rowntree, along with some fellow experienced content producers and web masters, created Boodigo, a new search engine specifically geared toward people looking for porn. Besides its commitment to turning up un-pirated, non-virus-infected search results, Boodigo also promises users it won't harvest any of their personal data to sell to advertisers.
It lets people "find legitimate, legal, non-scary, non-damaging content for their adult entertainment needs," Mr. Rowntree said.
Boodigo is a partnership between porn company Wasteland (NSFW) and west coast tech firm 0x7a69. Five of the west coast programmers, Mr. Rowntree said, are "refugees from Google" who were "not liking the way things were going." Now, they're putting their search engine programming experience toward Boodigo. Mr. Rowntree noted, however, that "they didn't replicate Google's logarithms even a little bit" — they wrote Boodigo's code from scratch, line by line.
There are plenty of reasons to search for porn on Boodigo — besides the obvious convenience of not having to wade through 289 Cosmo articles in your quest for the perfect porno. The site, as I noted earlier, aims to only populate its search results with legal — in other words, not pirated — porn.
As a long-time producer and director, Mr. Rowntree has experienced the hugely damaging effects of porn piracy first-hand. When people share and view adult entertainment without paying for it, "it's horrible for the performers, for the studios, for everybody," Mr. Rowntree said. Though he acknowledges that chasing illegal online porn distributors will "always be a cat and mouse game," he's certain that Boodigo has "done a very good job at identifying the illegal tube sites."
"They're basically just blacklisted from ever getting into the search results," he said.
Another plus is the site's claim that is doesn't track any of your personal data. As the About page explains,
Boodigo does not use cookies or other user-tracking technologies to gather information about our users. We aren't interested in building a 'profile' on our users; our core mission is simply to help you find what you're looking for in a way that's as efficient, effective and enjoyable as possible. In other words, using Boodigo means finding what you're looking for without having to worry about what someone else might be finding out about you.
Plus, using a separate site to search for your porn also saves you from that awkward moment when somebody borrows your computer to Google something, only to find that a search for "best food" autofills halfway through to "best food fetish vids."
"It's not filling up [your] browser history with something [your] grandmother might find," Mr. Rowntree said.
We asked Mr. Rowntree how Boodigo would earn money, if not by selling its user data to advertisers. Eventually, he said, when the site starts bringing in more traffic, they'll allow companies to bid for advertising space triggered by keywords entered by users — like what Adwords does, he said.
Boodigo also comes with another added bonus, particularly for anyone upset by the aforementioned news about tumblr's porn searching. Because of tumblr's new restrictions, this is what happened when I searched the site for "porn for women":

Not only does Boodigo let users search tumblr's porn collections, but it even has a separate search tab exclusively for that purpose:
And now, check out what happened when I searched for the same thing — "porn for women" — in Boodigo's tumblr search:
All that being said, be warned: as the search engine is brand new, it does still have some kinks. When I randomly searched for "cats," for instance, I did find links to sexy sites like Alt Pussy Cats and Busty Cats, but I also found a link to this very un-sexy (though VERY cute) tumblr that's basically just a series of photos of cats on boats.
But if people are using the site to find porn, "they're probably not going to be using it to search for cats," Mr. Rowntree pointed out. Touché.
I asked Mr. Rowntree how he saw Boodigo expanding in the future.
"We might end up experimenting with some kind of anonymous instant messaging service as an alternative to Skype or Google Chat," he said. "The obvious name for that will be Boodicall."