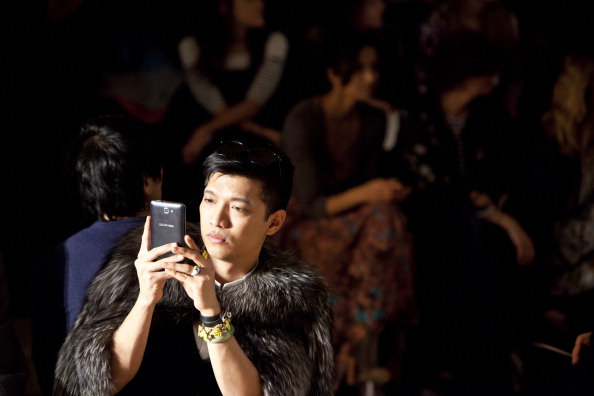 Remember back in the mid-2000s, when bloggers such as Bryanboy, Tavi Gevinson and Garance Doré threatened to tear apart the fabric of the fashion establishment? Certain snobs cried foul as the young bloggerati uploaded photos from the catwalk mere hours after a show ended. Others embraced fashion's more populist turn.
Now, the fashion blogs are yesterday's news. All you have to do this Fashion Week is download Instagram and search the #nyfw hashtag to take in designers' freshest looks, almost as soon as they float down the runway.
"Every influencer in fashion uses the medium for instant access to any show, place or street at any given moment," Danielle Snyder, who designs jewelry with her sister Jodie Snyder as Dannijo, told the Observer. "It's as voyeuristic as it gets—for better or worse."
Scroll down and you'll catch a glimpse of what Anna Dello Russo wore to a show at Milk Studios that day. Keep going and maybe you'll find a model-heavy behind-the-scenes video uploaded by Cara Delevingne.
Apart from the business of retailers buying, the days of Fashion Week functioning solely as an opportunity for editors and insiders to plan editorial coverage six months in advance are long gone. Now, NYFW is a blur of events, outings and impromptu photo ops—a chance for bloggers and brands alike to market themselves to the masses in real time.
Whether you're a fashion junkie stuck in her Midtown office throughout the festivities or a 12-year-old from Wyoming with an iPhone, you can follow Fashion Week's parties, shows and street-style moments as they happen just by searching #NYFW on the Instagram app. If we were prone to hyperbole, we'd say it's been the most significant force for democratizing fashion since the ready-to-wear revolution of the early 20th century.
Alexandra Weiss and Carol Han cofounded CA Creative to help lifestyle and luxury brands navigate the tricky territory of social media in 2010, so they're pros when it comes to the dos and don'ts of fashion Instagram and the medium's best practices.
"Instagram is one of the easier platforms to get people on board with," Ms. Han told the Observer. "It doesn't take a lot of handholding or encouragement. With the older generation of the fashion industry, it used to be a bit of a struggle to get them on board, but now it's not so much the case. Everybody is gaining an understanding of how important it is to their social media and their brands."
Ms. Han and Ms. Weiss school their clients not only on what to post, but how often.
"We want to document things in real time, but when we see people posting 10, 15 photos of the same thing during Fashion Week, well … It's O.K. to edit and think about what you're going to post and take a second," Ms. Weiss said.
The stream has turned into "an editorial channel," Ms. Han added, "like a blog might be. Put a lot of thought into it. Take it into consideration and treat it as an editorial."
---

NYFW's Must-Follow Instagram Pros

The stalwarts: @styledotcom, @mbfashionweek, @voguemagazine
Obvious, but you wouldn't visit Rome and skip out on the Vatican.

The models, for backstage FOMO and hair-and-makeup details: @caradelevingne, @cocorocha, @karliekloss, @hilaryhrhoda, @jourdandunn, @kendalljenner

The editors, an international coterie of Vogue-ettes past and present: @anna_dello_russo, @andreltalley, @therealgracecoddington, @carineroitfeld, @carlynecerfdedudzeele, @emmanuellealt, @hamishbowles, @evachen212

The street style photogs, because while SS15 is exciting and all, someone's got to show us what the people are wearing this season: @tommyton, @streetpeeper, @thesartorialist, @garancedore

The bloggers (don't fail them now!): @manrepeller, @theblondesalad, @nitro_licious, @sydnesummer, @graceatwood, @bryanboy

Wild card: @kimkardashian
Hey, she gets invited to the best parties — and she's shameless enough to snap selfies with every A- and B-lister who stands still long enough. You won't get such up-to-the-minute nightlife scoop anywhere else.

---
Research for a recent Observer feature revealed that most brides would rather see photos of guests at their weddings enjoying themselves instead of an endless stream of blurry pics of the couple walking down the aisle. We asked if this approach applied to Fashion Week. Should event-goers try to capture candid moments rather than runway shots that seem to function only to prove the Instagrammers were actually there?
"There's definitely validity to that," Ms. Han said. "It really helps not be too rigid or stylized. Posting a photo that [everyone else] took is slightly less effective than posting a great candid shot backstage of Cara Delevingne getting her makeup done." Ah, the holy grail of Fashion Week Instagram posts!
As with all social media, oversharing is an issue—brands must make sure not to turn their followers off by posting too often or getting too personal.
"It's important that we have a certain level of intimacy with our following but we're cognizant that oversharing has its dangers and we know our limits," Ms. Snyder of Dannijo said.
Of course, everyone's got an opinion—and there are still old-school editors who think Instagramming from the front (or second, or third) row is gauche. But most of our sources see no issue with it.
"To each their own," Ms. Snyder said. "People are at fashion shows for all different reasons, so I don't judge what people do in the front row so long as they're respectful to the designer. I'm personally more of a picture sharer."
Ms. Han agreed.
"Poo-pooing front-row Instagrammers is a little bit of an old-school mentality," she said. "There are editors out there that are from a different generation that won't whip out their phones and will pay attention to every look that's going out without recording it. There are editors out there that will sketch the looks as they're coming out and that's amazing that they're doing that. But as the new generation steps into roles of importance in the fashion industry, they are so schooled in social media and they've grown up with their phones in their hands."
Of course, with all the attention being paid to Instagram during Fashion Week, there must be a way for brands to catalog and organize the streams of Instagram photos that are snapped at their events. Lucky for NYFW's most popular party-throwers, there's now a software interface for that thanks to zkipster.
Zkipster is the program used by publicists who tap away at their iPads to check you into events. It debuted two years ago and is already proving itself a must-have among fashion companies, counting John Varvatos, Saks, Armani, Maison Martin Margiela, Theory and Helmut Lang as clients. The digital guest list also offers zFace, which allows publicists to upload photos of guests' faces in order to avoid the awkward exchange that can result from a PR failing to recognize a VIP. It also helps cut down on gate-crashing.
Last week, zkipster launched yet another service: zSocial. Using zSocial, marketing teams can catalogue all of the Instagram posts (and tweets) sent from their party guests over the course of an event. "At Fashion Week, guests are on the lookout for the perfect Instagram shot the second they walk into a party" co-founder David Becker told the Observer. "By zinging hashtags directly into the feeds of checked in guests, zkipster is creating an instant opportunity for social media currency and Instagram envy."
Brands can have zSocial tweet the event's hashtag to each guest upon check-in to coax them into using it, although higher-end companies might opt out of that feature to keep things cool and confidential. Though as one top event organizer commented, "We inform the representatives of all celebrities attending our events to remember that no matter how hard we all try, no event is ever truly private any more and anything they do or say could end up on social media."
Instagram's reign cannot last forever. Snapchat, where a shared picture evaporates in seconds, is grabbing a foothold. Brands such as Nasty Gal are already taking advantage of Snapchat's youthful demographics, zapping disappearing ads to fans' inboxes. "I'm very open to integrate Snapchat if it's the new hit," Mr. Becker said, "but the content vanishes, a brand is not really interested in that."
After a couple more seasons of Instagram mania though, Snapchat's temporary nature could become an asset as fashion leaders long for a sense of renewed exclusivity. Amassing hundreds of likes on an Instagram post feels nice but what could be more rarified in our increasingly shareable world than content that vanishes in seconds?