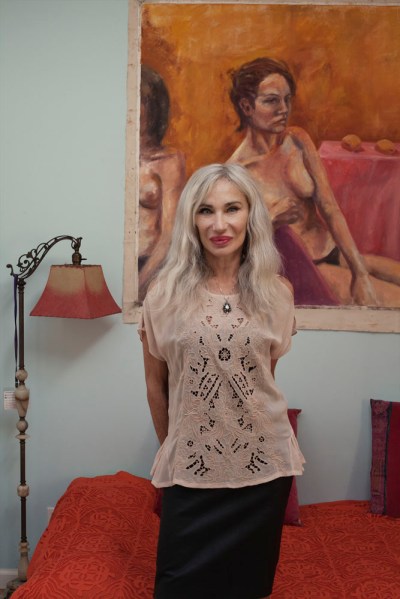 "It is the perfect place for a world citizen," fashion designer Yoana Baraschi said of New York City one late summer afternoon in the stunning garden of her Chelsea home. The city has been good to her. Born in Romania to a family of artists, Ms. Baraschi began her fasion career working for Emmanuelle Khanh in Paris, before moving to Manhattan. Valuable experience as creative director for Betsey Johnson gave Ms. Baraschi the confidence to start her own collection in 2002. Currently collaborating on a line with DJ Chelsea Leyland, Ms. Baraschi's range is available in Neiman Marcus, Saks Fifth Avenue, Lord & Taylor, Henri Bendel and Bloomingdale's. "It's my bliss," she said about the garden view she wakes up to every morning. The scent of lemongrass filled the air of Ms. Baraschi's two-story, three-bedroom home in Chelsea, shared with her husband, two daughters, a cat named Kitty and a ball python named Snake.
You designed your three-bedroom home with the help of your daughters. How did they help? Our home is an amazing amalgam of my past and current life, and of our family travels and history. We have all brought something special to the space. My daughters have very individual tastes. Sophia is an art major; she paints, and she likes to live in a colorful, bohemian environment. I love to showcase her work here. Shoshana, who just left for the University of Rochester, likes clean, white surfaces and a calm, as well as, orderly environment, although I am afraid we have let her down; she had to put up with the shabby chic of the house.
How did you decorate the space? A home is an environment that you feel for more than anything else. You don't need big expensive things or decorators; it just has to reflect how you feel inside and make you happy. You can achieve that by surrounding yourself with things that have meaning, and for me color is very important. That's from my connection with India, where I've been over 70 times. My home is really a white canvas filled with color. The combination of red, orange and turquoise is really meaningful to me.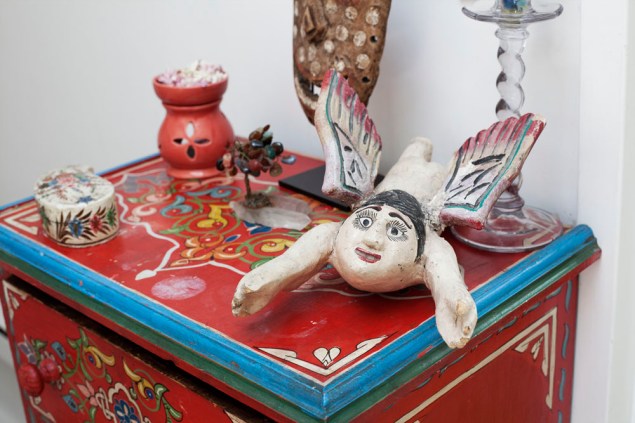 You were raised in Romania, lived in Paris and spent a lot of time in India and London. How have these places influenced you as a designer? Being from many places makes me less attached to a specific form of beauty. A beautiful environment and home is one that has a soul. Every object in my house has a personality. In Romania my home was full of my father's sculptures. Books were piled up in every room, and our living room had two walls of floor to ceiling bookshelves. Our country home in the mountains had loads of pillows left from my grandmother and endless Persian carpets creating that very oriental ambiance. Paris for me is all about white walls, neoclassical moldings, mirrors and faded couches. India brought into my life a love for artisan's use of extreme color and reinforced my passion for the beauty of craftsmanship.
What are your most cherished items in your home? My sirens from Coccin and the red, Moroccan painted dresser, although I am not really attached to anything in particular. I'm like a gypsy, able to pack a few colorful pillows and rugs and set a tent anywhere my heart desires.
You have a Haitian tree of life painting in your living room. What's the story behind that painting? My brother lives in Villars and is the doctor of this super fancy ski resort in the Swiss Alps. He fell in love with the Haitian paintings in a local show and bought them all and gave me this particular one. I think it's the best one.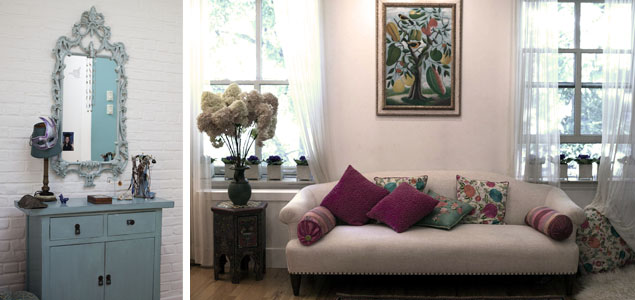 What about the nude painted by your daughter, hanging in your bedroom? My daughter has a special gift for portraits; she captures a person's soul in each of her paintings. A nude is also a portrait opportunity for her. This one was done during her summer art class.
The deck and plants outside your bedroom are a nice balance of nature in the city. Do you spend a lot of time outside? The view of my garden is the first thing I see when I wake up in the morning. I water it every day so I get grounded while waking up. In the summer I tan and read my book out there; it's the most relaxing thing I know.
Is nature a big influence for you? Nature is essentially grounding and we live in a very crazy, un-grounded world. It's important to have your hands in the dirt and to be with plants. It just gives you a feeling of stability. Cooking has the same effect on me. Also, when it comes to designing there is a sense of balance and proportion in nature that I relate to. Some people relate more to the abstract world or industrial world, but I relate to the natural world the most. I relate to things made by hand and the sense of light.
You were creative director of Betsey Johnson. How did that job set you up for your own collection? It was an amazing job. It was very interesting to see someone who does their own thing maintain a successful business. It really gave me the courage to do my own thing. Betsey didn't live by anybody else's formulas of success; she just was Betsey and had the courage to put that out there. She was also a tremendous example of PR before PR was what it is. She had a very clear story, a very succinct message and she kept putting it out there. It was really what made me think I could do it on my own.