So summer is pretty much coming to an end, and with that end comes New York Fashion Week. Now, the Observer has got you covered if you're into that kind of thing, but Fashion Week is not exactly my area of coverage. Mostly because A) pretty people frighten me and B) even if I tried to cover I wouldn't know a halter neck from a hosiery (note: I Googled "fashion terms.") HOWEVER, in a desperate attempt to stay relevant  the spirit of the occasion, I decided to combine what I actually am interested in — television — with fashion. Here is a look back at summer's most popular TV shows, and the biggest hits and misses– or "foe paws" as the fashionistas say — they made in the clothing department.
True Blood
The final season of True Blood decided that the best way to drive their concluding story arc forward was to constantly flash backwards to unimportant 1880's bullshit, which was really, really frustrating and no, no Vinnie we don't get upset about True Blood anymore, it's over.
Thankfully, these flashacks did provide some classic fashion choices. My personal favorite was Bill Compton circa 1885, taking a break from the local village's production of Alice in Wonderland in which he plays a particularly flamboyant Mad Hatter.
For something a litte more modern I present Eric Compton, dressed as the fifth member of Color Me Badd on the way to film the music video for their 1991 hit, "All 4 Love."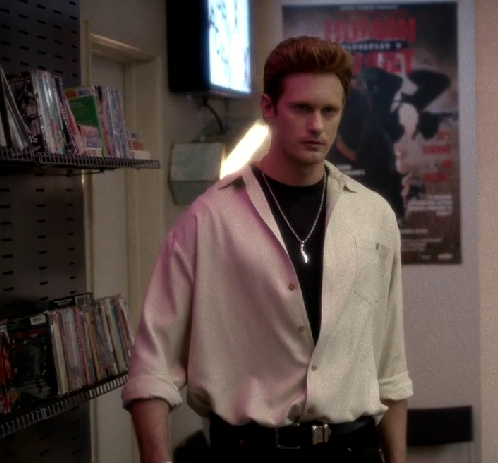 Tyrant
This particular look is from FX's We Cast A Blue-Eyed British Actor As Our Middle-Eastern Lead But We Made Up The Middle-Eastern Country He Is From So It Isn't That Wrong Or Insensitive collection. Look how nice and American and clean his suit is!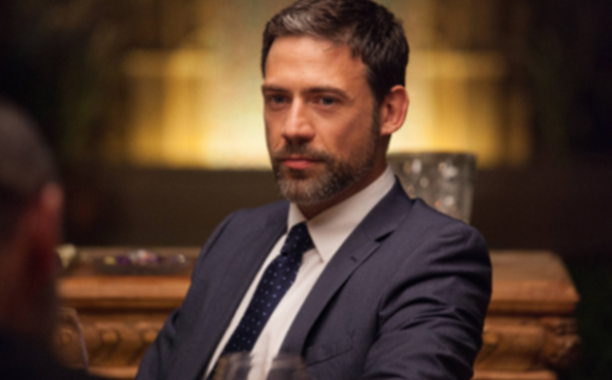 The Knick
Another period show so you know The Knick brought its A-Game when it came to costumes. And if I learned anything from Clive Owen's Doctor Thackery it's that sweet velvet jackets are cool. Can we bring back velvet jackets? Yeah, that'd be cool. That, and injecting a shit ton of cocaine right before surgery. Yeah, that was cool too.
…just the jackets? Okay, just the jackets.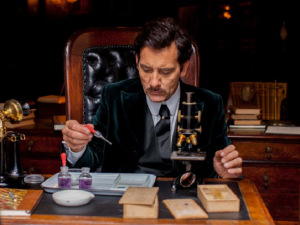 The Strain
Don't forget about headwear! Here, on FX's The Strain, Corey Stoll displays a lovely head piece that The Strain's costume department scooped up off the side of the local highway. So bold.
The Strain was also very forward thinking when it came to today's minimalist, tight-fitted look. Click here to see that, but don't click there if you don't like saying "Ah, man, come on, I didn't want to see that."
Outlander
I will never rag on kilts. Kilts are the best, and this show is filled with kilts. TV needs more kilts. If I could I'd be wearing a kilt right now (Thanks a lot, New York Observer "code of conduct".) But I do have some concerns with the hats on Outlander. Does that not seriously limit peripheral vision?! How floppy is too floppy when it comes to floppy Scottish hats?
The Leftovers
Speaking of floppy…The Leftovers really went for an at-home, comfortable style this year, as mostly displayed by Justin Theroux's jogging sweatpants. His loose jogging sweatpants. His really, really loose, nonrestrictive jogging sweatpants.
The Real Housewives of New York
Enough about the clothing, let's talk accessories. Everyone knows you need to be subtle — too much accessorizing and it comes off as un-classy. Who better to teach us subtly and class than the Real Housewives of New York? I think what we could all take away the last season of RHONY is that just the right accessory can make a huge impression on a dinner party. Give you a leg up on the competition, if you will. And by that I mean this crazy woman threw her fake leg on a table and I will take any chance I get to bring that up.
Keeping Up with the Kardashians
Did somebody say trendsetting, being envied by your peers and setting a shining precedent for all other celebrities?! No? Well the Kardashians showed up to this thing anyway. Truthfully, I've never seen one moment of KUWTK (I'm not trying to look cool, and my Netflix queue of Justice League cartoons would disagree even if I was.) With that being said, I had to take this screenshot of Kim's wedding dress from the finale out of context. First thoughts: It's pretty, more normal than I expected. Besides the disembodied hand attached to the veil. That's weird. But, maybe, revolutionary in the world of fashion? I expect nothing less from you, KK.