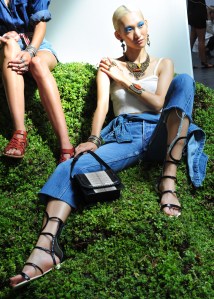 A sultry heat enveloped day one of New York Fashion Week, where show-goers not quite adjusted to September city life appeared to have just stepped off the Montauk jitney (they very well might have). Canvas slip-on flats ala Celine and norm-core sandals such as Tevas and Birkenstocks were the footwear of choice, and top-knot buns and maxi dresses kept the crowds cool and comfortable while viewing the first of the Spring 2015 collections.
The Observer  caught up with Barney's fashion director Tomoko Ogura at the minimalistic chic Hellessy show downtown. Ms Ogura is most excited about purveyor of outdoorsy-luxe menswear Tim Coppens debuting a womenswear collection. Everyone including Ms Ogura chatted over the buzz surrounding Opening Ceremony's Sunday night show, which will be in the format of a 30-minute play. (Word on the street is that Rashida Jones will be just one cast member in the performance.)
On the way-West Side, Frame Denim (fans include Rosie Huntington-Whitely, Miranda Kerr and Beyonce) presented its spring collection, where a gaggle of editors congregated at the denim giveaway table and downed almond lattes from the Juice Press. "My boss is only going to the tents, like, once," said the assistant to a prominent fashion editor. Already, the talk is about the division between brands that Do and brands that Don't – show at the Lincoln Center. Just four years in, is the venue already passé? Hate to say the answer is yes so will just say, you might think so, we couldn't possibly comment.
Uptown, Lisa Perry held her show at a gallery space on Madison Avenue. On hand was the Barneys crew, natch' – including husband Richard Perry, whose hedge fund Perry Capital acquired the store two years ago, and senior staffers Mark Lee, Daniella Vitale and Simon Doonan. Fashion VIPs CFDA ceo Steven Kolb, Fern Mallis, and Ruth Finley filled in the front row, as did enough Birkin bags to stock a Hermes warehouse. After that it was on to Dannijo's spring 2015 presentation titled a Dannijo Road Trip, where models hanging out in front of Teepees and lounging on the grass made this writer long for one more summer weekend.