For the first time, a group that identifies as LGBT-inclusive will march in New York City's St. Patrick's Day Parade. The reason why, however, may have more to do with sponsorship than solidarity.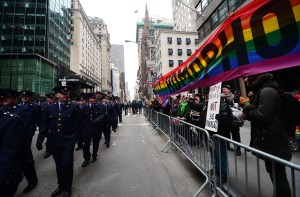 OUT@NBCUniversal, the company's LGBT support group, will be allowed to take part in the city's annual celebration of Irish culture. The parade committee voted unanimously to include this group in the parade–NBC broadcasts the event, which may have played a part in the choice.
Craig Robinson, executive vice president and chief diversity officer at NBCUniversal, told the Associated Press that the group would "enthusiastically embrace the spirit of inclusion" that the parade committee showed through its action.
National groups also cheered the news. Sarah Kate Ellis, president and CEO of GLAAD, said she anticipates a St. Patrick's Day Parade "that I can share with my wife and children."
The parade has often been in thrall to religious interests, but Cardinal Timothy Dolan, grand marshal of the 2015 parade, released a statement saying the parade committee "continues to have my confidence and support … I pray the parade will be a source of unity for all of us."
The parade's earlier stand against LGBT groups caused controversy earlier this year. Mayor Bill de Blasio refused to march in the 2014 parade and Guinness beer, a staple of the parade, also pulled its sponsorship due to the policy.