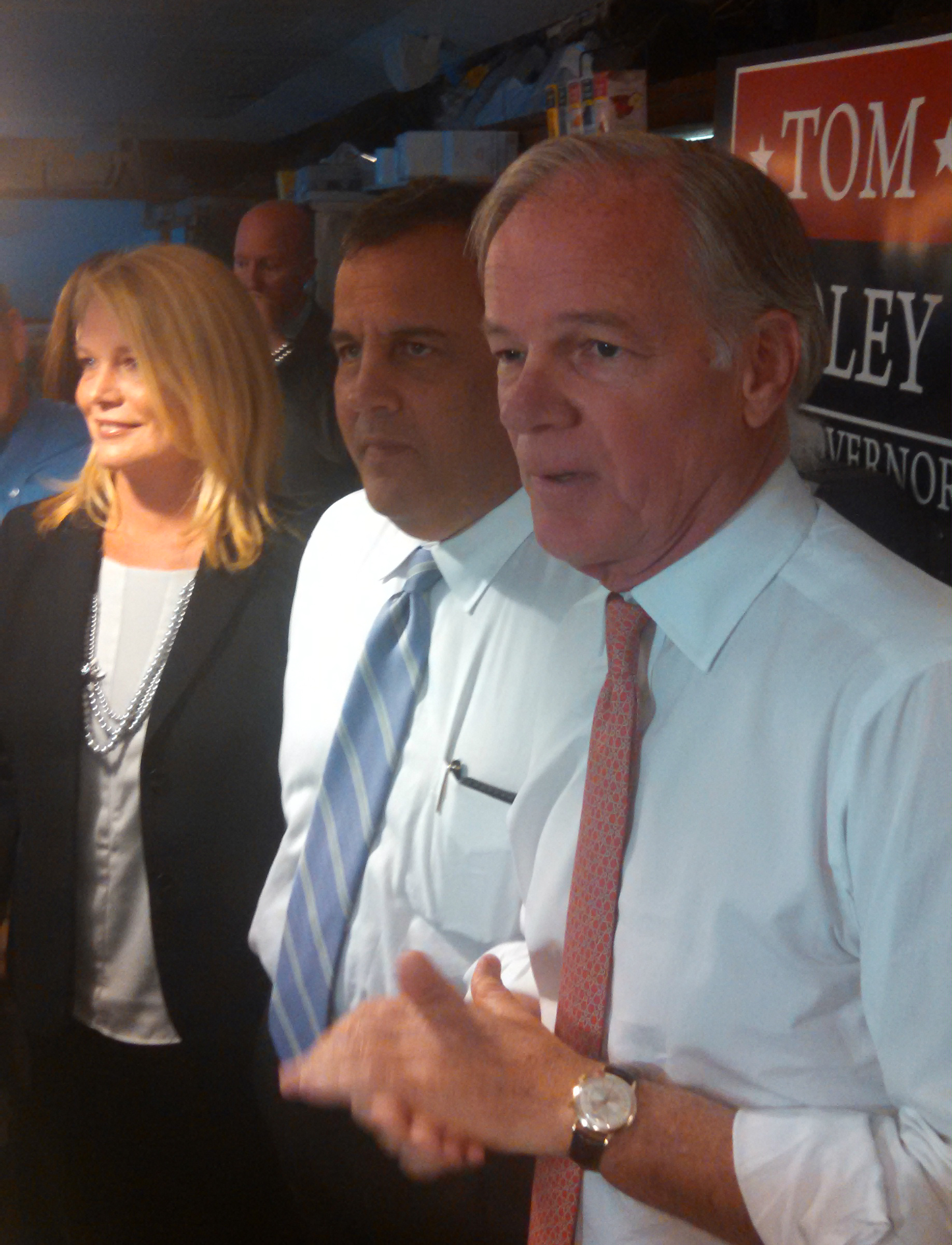 STAMFORD, CT – New Jersey Gov. Chris Christie's receptivity toward appointing Democrats to top positions in his state might have had some scratching their heads this week following the approval of Christie's nominees to two key departments, but it was no big issue for the Republican hopeful in Connecticut's gubernatorial race, Tom Foley, who appeared with Christie at a retail politicking stop at Curley's Diner here today.
In fact, he takes it as a sign of good governance — as long as the nominees are the most qualified candidates for the jobs.
"In this part of the country Democrats for the most part make up the majority of the legislature, so if you're a Republican governor and you have a legislature controlled by the other party I think it shows you're a consensus builder, it shows you can reach across the aisle," Foley, who's working to unseat Democratic incumbent governor Dan Malloy, told PolitickerNJ.
Christie's visit here today was just one stop on an itinerary meant to drum up support for fellow Republican gubernatorial challengers in places like Connecticut and Illinois. Insiders say his Republican Governor's Association chairmanship has been an invaluable position for the potential presidential primary candidate, allowing him to build his brand among conservative donors and voters, often by taking aim at his stumping partners' Democratic competitors.
But at home, Christie has been more open to cross-party pollinating. Just yesterday the governor saw two of his nominees — both well-known Democrats — approved for positions at the Board of Public Utilities and the Department of Transportation, confusing insiders as to what Christie gets out of the deal and irking conservatives who would have preferred to see Republicans appointed to the positions.
One Republican senator, for example, told PolitickerNJ he was giving Christie the "benefit of the doubt" on the appointments, and pointed to a few qualified conservative lawmakers who might have fit the bill instead.
(Upendra Chivukula, a democratic assemblyman from Somerset County with some of the most progressive positions on environmental issues in the legislature went to the state's the BPU, while Jamie Fox, a longtime political operative who's served under democratic governors like James Florio and Jim McGreevey — and, more recently, as a senior aide to Barack Obama's campaign — went to the DOT).
Foley, who stood outside the diner chatting with staffers and police officers this afternoon ahead of Christie's arrival, told PolitickerNJ it's all about being an effective leader in an executive position where party affiliations come second to experience.
"My plan when I'm governor is to get the best and brightest people we can into government," Foley said, who by some polls is leading Malloy in the gubernatorial race. "I don't care what party they're in. We had 43 percent of the people registered to vote unaffiliated with anyone. We're going to have Republicans we're going to have Democrats we're going to have unaffiliated. Once you're elected to governor you represent all the people and you have an obligation to get the right people into office and at that point it shouldn't be partisan."
"I assume these are the most qualified people for the positions and if that's the case, I'm a good government guy, and I see that as an example of good government," he added.