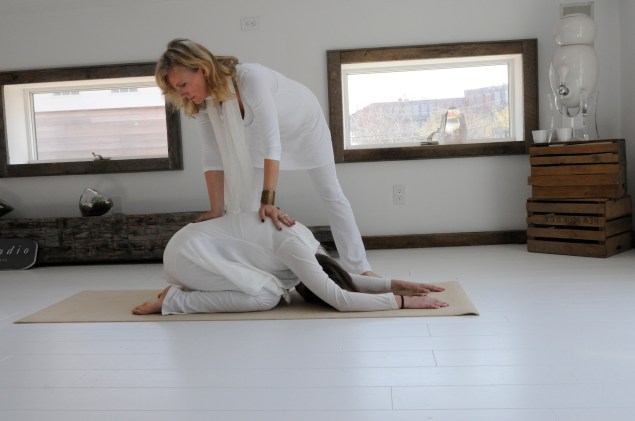 Most retreats are about healing your body, while the meditation revolution is addressing our over-taxed minds. As the intensity on the notion of inner beauty continues among elite beauty-chasers, next on many a frazzled New Yorker's to-fix list is the third dimension, the spiritual aspect of the self.
At 10 a.m. on a hazy August Sunday, my friend Sophie and I joined the good people of Litchfield, Conn., for a yoga class at a new venue known simply as The Schoolhouse.
Not that this was like any yoga I've practiced before.
With a soundtrack encompassing everything from Van Morrison's Into The Mystic to the Black Eyed Peas, it was more of a vinyasa-Sufi-dance hybrid, designed, as our instructor Maureen Dodd breathed above the music, "to clear the Chakras and really move the energy around the body."
And it was powerful stuff—for Sophie and I it represented the culmination of a weekend-long immersion in Destination Spiritual, a bespoke retreat package created by Ms. Dodd and co-founder Rachel Paletsky Ash. Ms. Ash is married to Dr. Richard Ash of alternative Upper East Side health destination The Ash Center, where A-listers gather for allergy treatments and intravenous vitamin infusions.
Beyond a physical retreat to Litchfield's sweeping "fields of light," the literal translation, "Destination Spiritual, can be defined as the desire to truly understand ourselves and our internal landscape," explained the founders at our candlelit initiation, setting the tone for a weekend of sustained and soulful self-examination.
"Traditionally, retreats are about doing or striving for something. But we wanted to create a space to simply re-establish the relationship with our higher selves," explained Ms. Dodd. "Mastery of our internal landscape is at the root of our success, as well as the mastery of our external, material world." Their mission is to assist clients to redefine the concept of "spirituality" itself. Rather than being confined to the arena of organized religion, the Destination Spiritual team's aim is to promote a basic ethos:  "just as we maintain our physical body, we lift ourselves by nurturing our spiritual and emotional body," Ms. Dodd said at the start.
The pampering element was thrown in too, thankfully. "Enlightenment" does not require any wearing of hair shirts and self-flagellation at Destination Spiritual. Our lodging for the weekend was the award-winning Relais & Chateaux property Winvian, an up-market hideaway where the elegant farm-to-table fare is by Daniel Boulud and Alain Ducasse-trained chef Chris Eddy. It also happens to be five minutes up the road from The Schoolhouse, the old Victorian school building that Ms. Dodd and Ms. Paletsky Ash have spent the past year renovating for their spiritual retreat, in this quiet corner of Connecticut.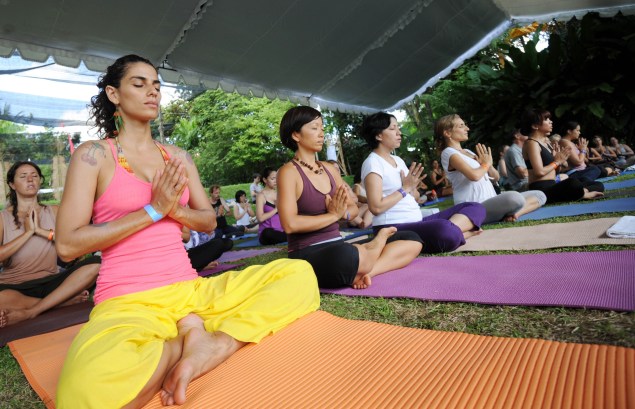 Litchfield County is New York's other weekend destination, the one where uber A-listers Daniel Day Lewis, Meryl Streep and Dustin Hoffman go in order not to mingle with each other or anyone else. Hillary Clinton is a regular at neighborhood hot spot, the West Street Grill, in Litchfield, where the Mumfords and Carey Mulligan have also been spotted. Heading south from Litchfield itself, George Malkemus and Anthony Yurgaitis of Manolo Blahnik own the Arethusa Farm and Dairy, selling the most delicious products almost directly from the udders of prize-winning Jersey cows. Diane von Furstenberg's Cloudwalk Farm floats above the lakes and mountains nearby. Fortunately for all, the paparazzi have deemined the area to be too spread-out geographically to bother with. The area provides the ideal backdrop for a sophisticated break, beckoning urbanites to come and ease their troubled minds at a number of different holistic retreats and spas.
Ms. Dodd and Ms. Paletsky Ash have infused their chic-yet-nurturing environment with good vibes—there are crystals from Brazilian faith healer John of God embedded in the broad, oak floorboards where the majority of the weekend's spiritual "teachings" take place. The sessions mainly manifested as a series of guided meditations, during which we were festooned with crystals, and anointed with medicinal oils.
Along with treatments at Winvian's world-class spa, our retreat included a hands-on healing session with Ms. Dodd (individual treatments vary during this bespoke experience), who is a Kripalu-certified yoga instructor with 20 years experience as an Ayurvedic and holistic body worker. A truly angelic presence often bringing an earthly dose of mischief, Ms. Dodd said her mission was simple: "All my work is about re-introducing people to their internal selves. It's not about what's lacking in people's lives, rather it's a process of removing all the barriers that are blocking us from operating at our highest frequency …"
In our initial session, we were invited to set an intention for the weekend by highlighting a particular spiritual or emotional obstacle. For me, this meant confronting the niggling digestive issues my experimentation with supplements and special diets has led to. I was starting to believe these problems were actually rooted in the emotional rather than physical realm.
Ms. Dodd handed me a quartz crystal to place on my stomach during our first meditation, which she assured me would "absorb the negative energy." After Sunday's final yogic "sermon", it did feel like an internal dam had burst. If not physically lighter, I returned to the city minus some emotional baggage and hoping for a happier stomach. How much that was connected to the serene beauty of the environment cannot be quantified, but the experience definitely left me feeling more in touch with the subtle ebb and flow of the universal energy we call "spirit."