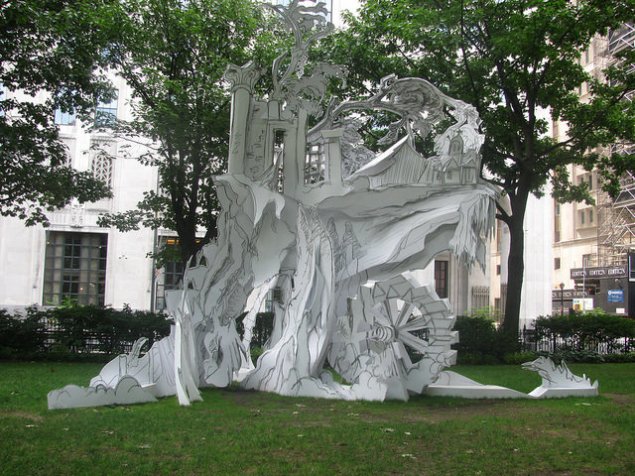 Sometimes, New York City can feel darkly practical. As we get caught in the maelstrom of meetings, emails, and memos, we sometimes forget the importance of moments. Thankfully, American artist Rachel Feinstein brought light to Madison Square Park with Folly, a fanciful collection of three ephemeral sculptures that bid the Big Apple adieu this Sunday. But first, Ms. Feinstein has arranged a proper Manhattan send-off for her mysteriously wispy works.
Based on the opulent sets for Diaghilev's Ballets Russes and earlier 18th and 19th century palatial spaces, Folly celebrates form and forgoes function to bring back the elegant effervescence of Rococo. One structure embodies Marie Antoinette's Petite Trianon, while the other two nostalgically recall scenes from old-time theater. With such flavorful, aesthetically enticing inspirations, the aluminum bodies are seemingly manifested of dreams and fairytales. And so, of course, their accompanying farewell party must be made of the same sort of unbridled beauty and whimsicality.
On September 3 from 5:30-8:30 p.m., all things delightful and strangely stirring will combine in "The Last Days of Folly," an exposé of talents in Madison Square Park with Ms. Feinstein's sculptures as a backdrop. From live music and opera to "a sensually undulating blob," the event offers three hours of experimental performance motivated by Folly itself. Perhaps the most promising piece on the bill is a ballet imagined by Sofia Coppola with the help of Jo Matos and Irene Hogarth-Cimino, both instructors at the prestigious Joffrey Ballet School. The mastermind behind films like Marie Antoinette and The Bling Ring, Ms. Coppola is no stranger to eccentricity and color, and her foray into the dance world may bring back memories of Diaghilev's romanticism.
Other big names include Zac Posen, Cynthia Rowley, and Proenza Schouler, who are among the designers that Ms. Feinstein chose to collaborate with for her fashionable event. The artist has been recognized in couture circles since she designed the runway for Marc Jacobs' Fall 2012 show, and tomorrow's festival may just rival a day at Bryant Park.