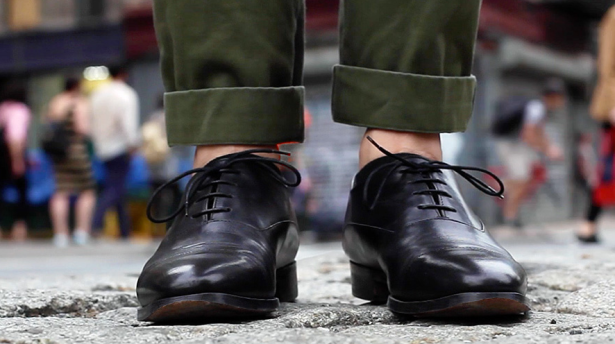 Every time we turn our heads, there's a new Uber or Airbnb clone. There's the Uber for helicopters, chefs and planes, as well as Airbnb-style apps for dogs, boats, cars, clothes and private jets. But another startup model is pulling more and more VC dollars away from sharing economy copy-cats and sexting apps. Call it the Bonobos-for-everything, or maybe the Warby-for-everything if you're not into J Crew-style chinos.
As of this morning, Jack Erwin, a startup that makes mens' shoes that lean a bit dressy, has closed a $6 million dollar round led by industry giant Brown Shoe. The NYC Soho-based company sells hand-made shoes from Spain, but can offer them cheaper than more established brands by going direct-to-consumer, cutting out middlemen, brands and retailers who jack up the prices. An analogous company would be Brooklyn-based Greats, which sells casual streetwear shoes through a nearly indistinguishable business model.
Jack Erwin shoes look great — this writer is sucker for a good pair of double monk straps, and you'd be hard pressed to find another pair with full calfskin uppers and a leather sole for a better price. But the photography on the site is all we can go on, which is one of the primary weaknesses of web-based, direct-to-consumer sales: we can't try them on without ordering a pair.
The direct-to-consumer model is hitting a stride with VC's who have been drifting away from investing in traditional Internet and mobile sites, and taking an interest in fashion ecommerce. Just in the past few years, the number of direct-to-consumer fashion and home goods startups have boomed: you can get your glasses from Warby Parker, your shorts from Chubbies, a purse from Dagne Dover, underwear from Flint and Tinder, a mattress from Casper and then Egyptian cotton sheets to cover it with from Brooklinen.
Direct-to-consumer is nothing new. Sure, it may have been recently popularized by Bonobos and Warby, who have been lauded in the tech press as disruptive innovators among the best of the lionized tech giants. But less buzzy companies have been doing it for decades — you don't hear TechCrunch singing they praises of Office Depot.
For now, the one thing that a company like Jack Erwin doesn't have going for it is their retail presence — physical stores help get your product into the hands of a consumer that might be suspicious of making a big leap on a $200 pair of penny loafers they've only seen in photos. But if the trajectory of companies like Warby and Bonobos are any indication, that could change in time.