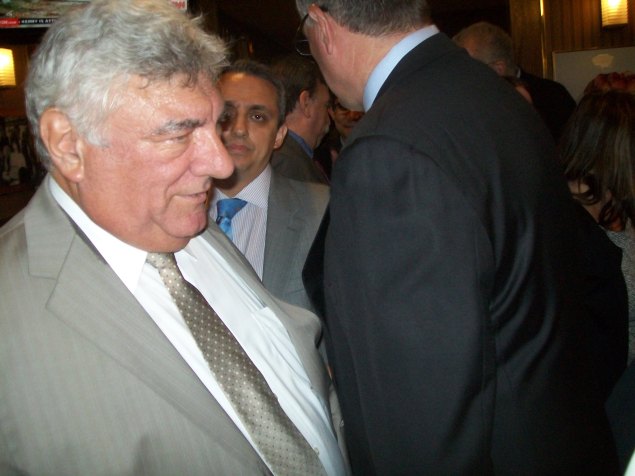 State Senator John Sampson is going back to Albany, which may just mean he can avoid the slammer–at least according to one Brooklyn Democratic bigwig.
Frank Seddio, the chair of the Brooklyn Democratic Party, insisted this morning at a fund-raiser that the twice indicted Mr. Sampson, who won a Democratic primary last week with Mr. Seddio's endorsement, would score another victory in court next year.
"I think they underestimate the relationship John Sampson has with the Thomas Jefferson club. You have to understand–and we're loyal to our friends whether they're in trouble, good times or bad, and John's had a tough time. Let him face that same test, let the justice system prevail," Mr. Seddio told the Observer, referring to his large Democratic club in southern Brooklyn, the Thomas Jefferson Democratic Club.
"I think John is gonna win this the way he won the election, he's gonna prevail in the courts," Mr. Seddio said, batting away a theory floated in political circles that he only supported Mr. Sampson so his Democratic machine can appoint a successor in the case that Mr. Sampson is found guilty and a special election is called.
"It doesn't matter who controls it. The governor has to call an election if that was gonna be the case," he continued. "In the worst, worst case circumstances we'll consult with everybody to see what we're gonna do to find the best candidate but I don't anticipate that to be the case."
Mr. Sampson, an attorney, was accused of embezzling money from foreclosure sales and lying to FBI agents. He pleaded not guilty to both indictments and is set to go on trial next year. Booted from the Democratic conference, Mr. Sampson, a former majority leader, has seen his clout in Albany significantly diminish.
Mr. Sampson spoke briefly at the breakfast fund-raiser, held at Junior's Restaurant in downtown Brooklyn, thanking the Democrats for their "loyalty" to him. The swanky breakfast drew a host of other Democratic luminaries, including Council Speaker Melissa Mark-Viverito, Public Advcoate Letitia James, State Comptroller Thomas DiNapoli and even Zephyr Teachout, the law professor who garnered more than 30 percent of the vote against Gov. Andrew Cuomo last week.