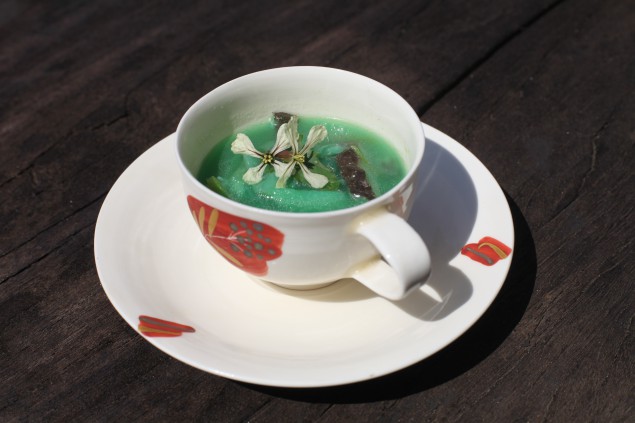 When the 12th edition of Frieze Art Fair opens in London on October 15 fairgoers will get to taste a little bit of Japan in the conceptual performance project of two artists—that's if they're not afraid of a little radiation with their meal.
Japanese artist Ei Arakawa and his brother Tomoo, who work collaboratively as United Brothers, will be serving fresh soup made with vegetables grown in Fukushima—the area most impacted by the 2011's nuclear catastrophe following a massive earthquake and tsunami—reported The Guardian and The Independent earlier today.
Does This Soup Taste Ambivalent?, presented with Green Tea Gallery, is one of six projects chosen for a new section of the fair called Frieze Live with is dedicated to "ambitious, active or performance-based installations," according to a July press release. It will be overseen by the fairs co-founders Amanda Sharp and Matthew Slotover, both of whom will be moving aside after the fair ends for Victoria Siddall to take over as director. For the piece, the artists have recruited their mother, who will join them at the fair to help cook the soup using daikon radishes that, as the artists and fair organizers assure, have been approved by the Japanese Farmers' Association.
The food may not actually be harmful, but fear may be enough to compel visitors to stay away. Slotover told The Independent, "They are flying in vegetables. They've been tested, they're safe, but there's clearly a psychological barrier." Frieze's catalog also states, "The soup United Brothers offer is laced with the (conceptual) possibility that it may be radioactive."
Health issues in the wake of the Fukushima disaster are an ongoing concern, and a topic other Japanese artists have confronted in their work. In May 2014, an article in The Japan Times reported a story about a Japanese manga that published a cooking-themed comic about people becoming sick as a result of Fukushima radiation. The comic was suspended, and its editor Hiroshi Murayama responded publicly to defend the decision to publish the art, alongside 13 local experts keeping tabs on reported health effects.