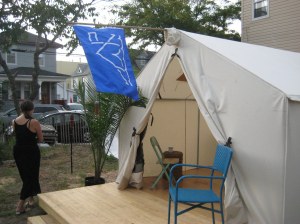 Today, along with the first hint of fall crispness in the air, there came, too, a pang of sadness for all the summer plans left unmade, beaches unvisited, excursions not taken. Now, though we might well expect days of muggy heat and sweltering subways, the days of back patio drinking, park sunbathing and outdoor swimming are numbered. And so our thoughts turn to what delights next summer might bring, chief among them, nautical camping options in the Rockaways.
For all of us who long for a weekend getaway, but cannot quite wrangle the logistics of getting to Fire Island, let alone Montauk or Martha's Vineyard, the Rockaways offer the promise of a pleasant respite closer to home, albeit one that has been notably devoid of the beloved boatel these past two years. The boatel, which accepted donations of $60 to $100 for a rather whimsical night of Spartan comforts—no electricity or working bathrooms—aboard artist-decorated cabins, has been defunct since the end of summer 2012.
But in the summer of 2015, glamping may be added to the somewhat ad hoc accommodations that have sprung up in the boatel's absence: namely, truck-a-float, a notably less winsome collection of four pods on docks available for rent that, surprisingly, did not become a hot thing in the summer of 2014. (There is, of course, always the notably less affordable option of renting a bungalow.)
As Rockawayist reported, "Camp Rockaway," as the tent village modeled on the vacation encampments of old is to be called, debuted a prototype this weekend, showing Kickstarter funders—who helped to raise $50,000 in June to make the luxe tents a reality—what the accommodations will look like. The tents will be fairly basic, with a double bed and two chairs on a raised wooden platform covered by a canvas tarp, and are intended to be a cheaper alternative to a hotels, though there's no word yet on how much they're expected to rent for or where they'll go up.
Though Rockawayist writes that the developer "has not yet secured a site, he is working closely with the City to make sure all the plans are up to code. That includes an easy pack-up design in the event of a storm." They do, however, have a number of taglines, include: "Take the A Train. To a tent" and "Turn your beach day into a beach stay."
And for those who can't want to wait for next year to enjoy the delights of waterfront camping within the delights of the city, there's always Floyd Bennett field, where you can set up your own tent for a very reasonable $20 per night.