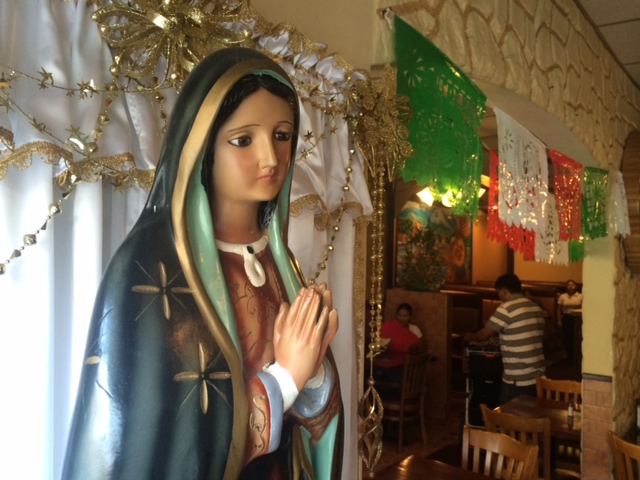 NEWARK – On the eve on New Jersey Gov. Christie's trip to Mexico, the Mi Pequeno Mexico restaurant hums with lunchtime activity. Many political observers look at Christie's three-day trip as a foreign affairs-focused run-up to a 2016 run for the Republican presidential nomination.
But according to Eduardo Navarrete, a 21-year-old delivery man at his family's restaurant on Ferry Street in the heart of Newark's Ironbound neighborhood, Christie should be more concerned with running New Jersey.
"I guess it looks good to go on foreign trips and make deals, but I don't see why he's visiting Mexico when there are a lot of things that aren't going that great here," said Navarrete, who was born in America but whose parents were born in Puebla, a city to the east of Mexico City where many of the more than 200,000 Mexicans living in New Jersey hail from, according to the latest census figures. A visit to the state of Puebla is part of Christie's itinerary. "Governor Christie should stay focused on what's going on here."
Christie, who got 51 percent of the Latino vote in the 2013 gubernatorial election, will start his official visit to Mexico on Wednesday accompanied by a crew of business, energy and pharmaceutical executives. Although Navarrete believes that strengthening commercial and cultural ties between his home and his ancestral homeland is important, another issue more directly affects his daily reality: immigration reform.
"I have a lot of immigrant friends, and it's a big problem," said Navarrete, stating that "more than 50 percent" of the people he knows in his Ironbound neighborhood are undocumented immigrants. "They recently had a two-year working paper program, which helped a lot, but is only temporary – it might be removed, it might not. My mother is still working for her citizenship. I have friends who came here 20 years ago, and they're still not legal although they want to be. It's hard to make a good living when you can't have a driver's license and you can't really have a home. Most of my friends are illegal. They're not as lucky as I was that I was born here."
Navarrete has worked at Mi Pequeno Mexico since he was a boy, making tortillas in the back under the guidance of his aunt, who owns the place. Before he got in the used car he just bought to deliver some tortillas, he offered Christie some advice.
"Mexico has a bad rap, because the media plays up the drug cartel violence up north along the border," Navarrete said. "While he's in Mexico, the governor should work to help Mexicans who have been living in New Jersey for a while who are still illegal to get legal. He's going to Mexico to get support. Putting some effort into that problem would help him get some support here at home."