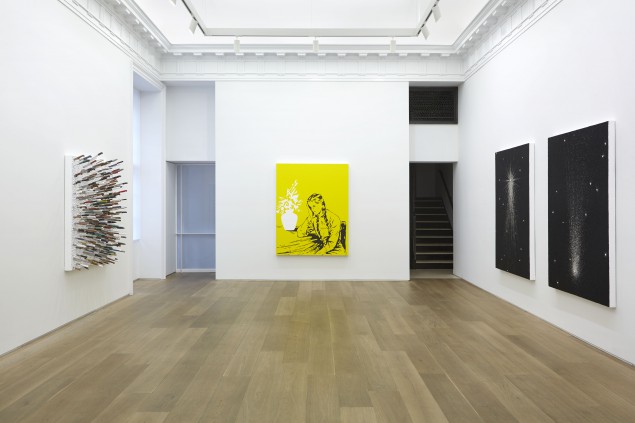 A roar of fine art highlights new stars plus Europe's mid-century movements
What does the art world of September 2014 look like, exactly?
Hundreds of art gallery shows open in New York this month and, by and large, the works on view are adult, thoughtful, European-accented. For good or ill, the playfulness of Pop Art is almost nowhere to be seen. If there's a slice of history that matters, it's the 1950s-1970s, with many shows saluting the artists or international art movements of that period.
Here's our first in a series of looks at prominent art shows by neighborhood. To start, the Upper East Side and how it's hanging this fall.
Gagosian Gallery
980 Madison Avenue
Ah, Larry. A show of 30-something artist Dan Colen, he of the Dash Snow set and the chewing-gum paintings, opened last week at GoGo Chelsea. But uptown reaches back a half-century for Helen Frankenthaler. It's amazing to think that the radiant whirls and luxuriant shapes of her stain paintings (not to mention her gender) were once considered so groundbreaking, but they were. One of only a handful of females (Lee Krasner, Grace Hartigan and Joan Mitchell were the others) to ever be allowed into the Ab-Exers club, her early 1960s paintings will be on view at 980 Madison to prove why. September 11- October 18
Galerie Perrotin
909 Madison Avenue
Probably the single most powerful contemporary art dealer in France, Emmanuel Perrotin's been inventive and early in his artist picks, gutsy in his shows. His collectors are among the biggest spenders in the world (think various Buffets and Beatz.) His September show is of Farhad Moshiri, an Iranian-born artist raised in L.A. who's well known in the Middle East—his work was the first contemporary art to cross the $1 million mark in a Dubai auction in 2008—but just gaining buzz here now. September 4 – October 4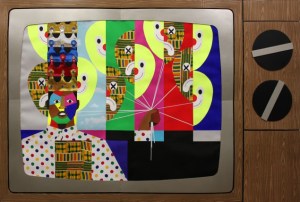 Tilton Gallery
8 East 76th Street
Brooklyn artist Derrick Adams bucks the "Teutonic cool" trends of the fall with this slew of brightly colored, almost cartoonish, mixed-media pieces concerning black figures in entertainment and the larger-than-life personalities they've been assigned or have adopted. The witty-with-a-bite show is titled "Live and In Color." September 10 – October 18
Mnuchin Gallery
45 East 78th Street
There are artists that appear often enough at auction to prompt our eyes to glaze over. Such was the fate of Morris Louis, a pioneer of Color Field painting. In an earlier era, when that mid-century movement was "out," his works dotted auction day sales like red dots cover NADA booths in Miami. Now, with fresh eyes, his hazy curtains of color, falling on the canvas like veils, look lush and even alive. Rumor is a handful from the show is already sold. September 10 – October 18
Mitchell-Innes & Nash
1018 Madison Avenue
A quiet but well-connected gallery, the power couple that runs this shop left two of the top jobs at Sotheby's in the 1990s but took a rolodex of museums and California clients with them. On September 4, they opened "Days Inn," a show about roadside motels and, implicitly, America. It's curated by photographer Justine Kurland. The "road" show features work by Louise Bourgeois, Jay DeFeo, Samuel Fosso, William Pope.L and Cindy Sherman, among others. September 4 – October 11
Hauser & Wirth
32 East 69th Street
In the art world, power is constantly re-dealt like a card deck. This gallery had little presence in the U.S. a decade ago and is now a behemoth around the world and with operations here, both uptown and down. Their opening fall show, a cognoscenti's pick, focuses on an intense 1960s Contemporary-art movement in Vienna. September 9 – October 25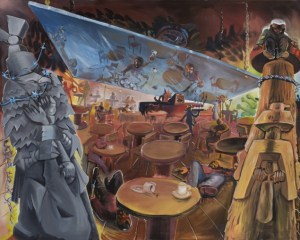 Michael Werner Gallery
4 East 77th Street
German painter, sculptor, theater designer and art professor, Jörg Immendorff was a student of Joseph Beuys and is most famous for his colorful and chaotic 1970s Café Deutschland series of paintings about art, politics and upheaval in his home country. Something of a cult exhibition generating a lot of heat, this show reunites much of that 1970-1980s body of work. September 11 – November 8
Hans P. Kraus
962 Park Avenue
Very occasionally, a dealer becomes so entrenched in his field he becomes synonymous with it. So it is with Hans Kraus and the very early history of photography. This fall, the dealer mounts images dating back a stunning 162 years of the French Cathedral of Chartres by Henri Le Secq, Charles Nègre and the Bisson Frères. September 16 – October 24
Blum & Poe
19 East 66th Street
Particularly welcome will be their show of 20th-century Dutch painter Karel Appel, an artist of the COBRA group (yet another avant-garde collective in the spotlight this season, along with the Zero Group at the Guggenheim and the Vienna Abstractionists; the artists in COBRA hail from the Netherlands, Belgium and Scandinavia). Appel changed styles and media constantly in his six-decade career and this fall, his foundation will team with Blum & Poe to salute his legacy. Flippers alert (not that we're giving advice): this show is just the first in a series dedicated to the artist that will tour globally in 2015-2016; next up is a drawings show at the Pompidou in Paris and there's another coming at the Phillips in Washington, D.C. September 6 – November 1
Venus Over Manhattan
980 Madison Avenue
Luxembourg and Dayan
64 East 77th Street
Two Upper East Side galleries, each run by one half of a prominent art world power-couple (Collector Adam Lindemann and Deitch Projects/Gagosian veteran director Amalia Dayan), plus Daniella Luxembourg, who's a force all her own. One of the more-awaited shows this fall is at Venus and is a group show curated by Simon de Pury, an art world personality and longtime owner of the eponymous auction house where Dayan got her start. He and his co-curator wife Michaela are known for breathlessly early bets on emerging artists. More established artists to be featured in the show include Ai Weiwei and Sterling Ruby. Luxembourg & Dayan, meanwhile, ever thinking of the art world, has thoughtfully kept a buzzy summer group show about sex fetishes, "that obscure object of desire," up through September. Venus: September 18 to November 1. Luxembourg & Dayan: through October 4