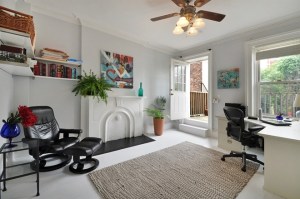 As Atlantic City casinos go down, if not quite in flames, then at least in rather depressed spirits, there are those with reason to celebrate. The expansion of legalized gambling on the East Coast, after all, means that sources of jobs—and profits—will shift elsewhere, and that others will reap casinos' (somewhat dubious) rewards. And with gambling interests and politicians pushing to expand the possibilities for mobile gaming, folks like Gideon Bierer, co-founder and partner at Partis Solutions, a company providing a range of strategic consulting services to prominent gambling industry players like Caesar's Interactive, stand to benefit.
Mr. Bierer is already doing pretty well. City records indicate that he and Tanya Haider, who is also a mobile gaming as well as a media executive, have just bought a Carroll Gardens townhouse at 71 Woodhull Street for $2.99 million.
Listed with Susan Little of Corcoran for an even $2.8 million, the place is on the pricey side, even for the once down-home-Italian, now-fancified 'hood. Then again, the 3,200 square-foot home, currently configured as an owner's triplex with a "high-income" two-bedroom garden rental, has a lot going for it. (Sellers Melanie Hammer and Zach Friedman leave behind six bedrooms in all.) Depending on taste and need, the place might be converted to a grand single-family and the garden is, as ever, "lush."
Recently renovated, with updated bathrooms and the requisite "chef's" kitchen, the place nonetheless retains considerable charm, with in-tact molding, banisters and a wood-burning fireplace. (The home dates to 1900, according to Streeteasy, which certainly makes it "prewar," but the listing suggests that the charm in question can be traced to the antebellum era, about whose precise limits there seems to be some small confusion.)
Interviewed earlier this year, Mr. Bierer said that among the attractive points of the so-called iGaming—that is, digital gambling—market was its "entrepreneurial, energetic spirit…It's infectious!" (You might even call it "addictive.") The future looked bright to the exec: "I think that legalization of iGaming in the US will be the biggest driver" of change in the industry, he said. "Lotteries in particular have a long way to go."
Sleep easy, dear readers, transferring funds from the poor to the rich is due to become easier than ever. Townhouses all around!