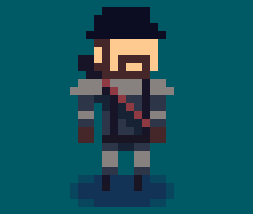 So the rumors were true: Microsoft (MSFT) bought Minecraft developer Mojang for $2.5 billion. Original fans of the game are buzzing with concern that their beloved indie game is destined for ruin — as they are wont to do — and major tech publications are no doubt preparing their lengthy analyses of the business implications. But the man who should be at the center of attention has chosen to bow out completely.
Minecraft creator Markus "Notch" Persson published a farewell letter on his personal site yesterday called "I'm leaving Mojang." In it, he anticipates the post-buyout community firestorm, and says that's he's done being a "symbol of some perceived struggle" for the soul of indie gaming. Yes, he may have an enormous pile of money now, but Mr. Persson was never asking for meteoric fame, or to belong to a cause. He just wanted to make a cool game.
I don't want to be a symbol, responsible for something huge that I don't understand, that I don't want to work on, that keeps coming back to me. I'm not an entrepreneur. I'm not a CEO. I'm a nerdy computer programmer who likes to have opinions on Twitter.
But now, that nerdy computer programmer is going back to everyday life where he can can work on little experiment projects, saying that if anything he makes gets mainstream traction, he'll "probably abandon it immediately." This is what fame in the games business is leading to, more and more often.
The gaming community is experiencing something of a cataclysm. The long-coming mainstreaming of games, combined with a perceived assault on the core gamer identity, has led to a number of recent public disputes culminating in #GamerGate, a public clash between gamers, reporters, feminists, trolls, bloggers and men's rights activists. It's increasingly difficult to be a public figure in the gaming world, and that's to say nothing of the horrendous mistreatment of women in the community.
In his own post, Mr. Persson points to this video describing the rise and fall of much-hated game developer Phil Fish, and it is probably the most depressing account we've ever seen of how a mob can create a celebrity out of an ordinary person and then publicly destroy him. Like Notch, Mr. Fish dropped out of games completely, stating in his own farewell letter:
I am done. I take the money and I run. This is as much as I can stomach. This is isn't the result of any one thing, but the end of a long, bloody campaign. You win.
It's sad to see Mr. Persson go, but until the war for the soul of gaming is settled, he's just the latest casualty. We thought to reach out for comment, but he's best left alone at this point. Besides, he's pretty clear about how he's dealing with press after the Microsoft sale: