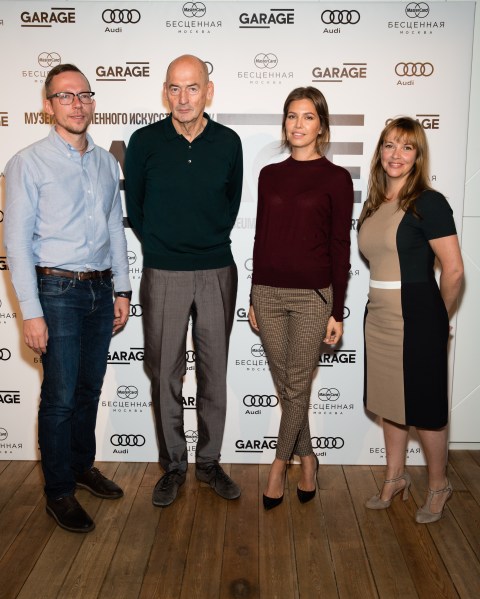 Today in Moscow, Dasha Zhukova announced that the Rem Koolhaas-designed new home for the Garage Museum of Contemporary Art, which she founded in 2008, will finally open its doors in June 2015. The space consists mostly of a heavily renovated version of a once-famous, now-dilapidated Soviet-era fine dining restaurant in Gorky Park, not too far from their current location, which is in the name part of town. Plans were first released back in 2012, so this has been a long time coming.
The Garage squad out in Moscow, which includes director Anton Belov and chief curator Kate Fowle in addition to Ms. Zhukova and Mr. Koolhaas, also rolled out the programming schedule for 2015. The initial slate of shows—spread throughout five exhibitions spaces in the 58,000-square-foot compound, which also sports an auditorium, a cafe, a screening room and a bookshop—will include a project by Rirkrit Tiravanija and a retrospective of the work of Louise Bourgeois, her first ever retrospective in Moscow.
There's a lot going on in the Russian art world (well, there's a lot going on in Russia in general, but for now let's stick to the arts). Later this week in the capital is the opening of Cosmoscow, now certainly the biggest international art fair in the country after the demise of Art Moscow. As it happens, I'll be there. Expect some dispatches.