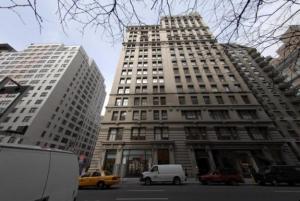 Gawker Media signed a deal this morning to relocate from its current Nolita location to 114 Fifth Avenue in the Flatiron District. Gawker will share the building with Mashable and the Pierre Omidyar-backed First Look Media, and will be right down the street from BuzzFeed and Business Insider.
"We will be moving out of the walk-up Nolita loft space that has been our home since 2008. Earlier today, we signed a lease for three floors of 114 Fifth Avenue," Gawker owner Nick Denton wrote in a staff memo that will go out this afternoon. Gawker Media signed a 15-year lease on three floors of the building, with plans to sublet one floor for the time being.
Gawker will have its own entrance on 17th Street, which means that employees won't be subjected to a corporate lobby. "Can you imagine Hamilton Nolan putting up with that shit?" Mr. Denton asked the Observer.
The new location is also prime for the mostly Brooklyn-dwelling staffers, and according to Mr. Denton, will lessen the commute from Williamsburg and several other Brooklyn locations by seven minutes.
There will be other changes to the space, as well. "The office will be on the second and third floors, with a public and performance space connecting the two. That will be open, a thoroughfare designed to promote random interaction," Mr. Denton wrote. "By contrast, the working space will be arranged in what we call studios, spaces contained on three sides designed for teams of half a dozen people or so to collaborate on projects without disturbing others."
"I think our plan is to sublime along with our entire stellar civilization," Gawker editorial director Joel Johnson cryptically wrote when we asked about the relocation plans this morning.
The working plan calls for Gawker to move out of its current offices at 210 Elizabeth Street in March. Last January, Gawker scrapped plans to move to a larger office and instead took over a third floor in the Elizabeth Street building. "Our long search for a new office is over, and it turns out what we were looking for was right beneath our noses the whole time," Mr. Johnson wrote in a staff email at the time.