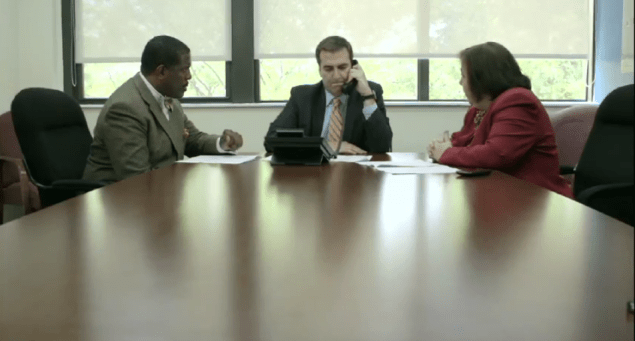 Queens State Senator Michael Gianaris–head of the Democratic Senate Campaign Committee–told radio listeners today that he expected indicted but re-elected Brooklyn State Senator John Sampson, renegade Brooklyn State Senator Simcha Felder and the unpredictable Bronx State Senator Ruben Diaz, Sr. to join with his Democratic delegation and support Westchester State Senator Andrea Stewart-Cousins for Senate Majority Leader next year.
Speaking on the Capitol Pressroom radio program, Mr. Gianaris said he considered Mr. Sampson and Mr. Diaz loyal Democrats who would doubtless fall in line with the rest of their party colleagues, and believed Mr. Felder–a conservative Democrat who has sat with the Republicans since his election in 2012–would come into the majority delegation fold.
Mr. Gianaris' caucus expelled Mr. Sampson last year after he was arrested for embezzlement–the first of two indictments for the one time Democratic majority leader. And Mr. Diaz briefly defected with the "Four Amigos" to oppose the ascension of Queens State Senator Malcolm Smith to the majority leader role in 2009, before reaching a deal and returning to the Democratic fold.
Mr. Smith, under indictment now for allegedly attempting to bribe his way onto the Republican Party line for mayor last year, lost his seat in a landslide last night to former Queens Councilman Leroy Comrie.
"Senator Sampson has always been, no matter what his status, a good Democratic vote in the Senate on the issues we care about," Mr. Gianaris said. "Simcha Felder has always said he will sit with whoever is in the majority, so we will most likely see him sitting with us come January."
Mr. Gianaris then addressed the subject of Mr. Diaz–another conservative Democrat known for his opposition to same-sex marriage and abortion–who has flirted with possibly breaking away again to help the Republicans keep a majority. Mr. Gianaris noted that Mr. Diaz has always ultimately stayed with the Democrats.
"He is a unique figure, he is a very colorful figure, he has some very strong beliefs, but he has never strayed from voting for a Democrat for leader of the Senate," he said.
Mr. Sampson did not immediately respond to requests for comment, and Mr. Felder declined to remark on Mr. Gianaris' claims. Mr. Diaz, however, warned that Mr. Gianaris should not presume his support.
"I don't know why he said that. Nobody has spoken to me. Are they taking me for granted?" Mr. Diaz told the Observer. "I appreciate Mike putting his faith in me, but I hate to be taken for granted. If they are taking me for granted, they might have a big surprise on their hands."
Mr. Diaz did say he was likely to support the Democrats, though he would not commit to backing Ms. Stewart-Cousins.
"Most likely, but not definitely, I will be voting for the Democratic leader. That doesn't have to be Andrea Stewart-Cousins. She is not the only one running," Mr. Diaz said, though he would not say who else was in contention, or what kind of conversations he had had with the Republicans.
The Democrats cut a deal in June with the breakaway Independent Democratic Conference to allow the two caucuses to hold the majority next year.