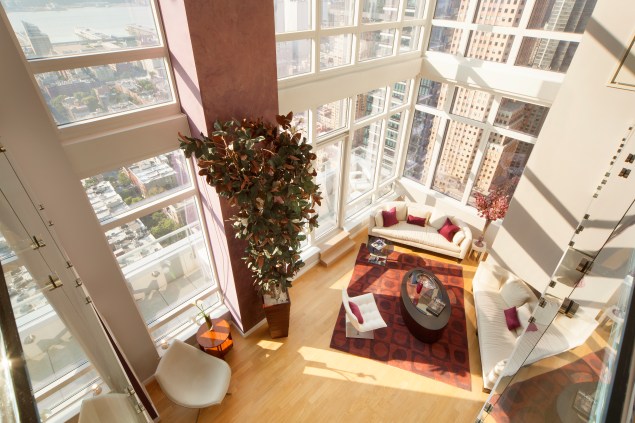 Included with the purchase price of a 4,333-square-foot penthouse triplex at 247 West 46th Street just listed with Modern Spaces for $18.89 million is a life-sized statue of a battle-ready Clark Kent in full Superman regalia. The statue is currently situated on the condo's 41-foot terrace, which commands ego-enhancing views of the Hudson River. (The Mirós and the Damien Hirst hanging near the entrance, however, are not included.)
On a recent morning, we stood outside with listing broker Reyn Rossington and looked beyond the railing to where lesser men of steel—these in hardhats—scurried below, attending to the rash of construction now under way in and around Hell's Kitchen. For a condo within spitting distance of Times Square, Mr. Rossington acknowledged, the asking price—the owner's idea—was steep. But residents of the Platinum building, which went up in 2007, feel optimistic that development in western Midtown will bolster the going rates. And the apartment does have certain heroic dedications.
Chief among them, perhaps, is glass. Possessed of 24-foot ceilings, the living room has walls of windows that stretch up, up and away, lending the space the character of a greenhouse. Elsewhere, the owner, who bought the penthouse new for $5.8 million in 2009 and combined it with a smaller unit below soon thereafter, employed a specialized crane to replace wall sections with still more glass.
Chandeliers of Swarovski crystal in myriad designs appear throughout: a shower of floral shapes cascades between floors; a rectangular array sparkles in a 24-foot-long (skylighted) walk-in closet; whirlpool patterns recur.
With four bedrooms and two kitchens—including one outfitted for catering, with a retractable blind to hide le help from le guests—the place is ideal, and has been much used for entertaining. Done in dark stone and tile, the master bathroom, accented by the owner with deep red candles and towels, alone makes for a gothic showpiece.
Beneath the unit's customized flourishes, though, lies a dutiful recitation of the modern luxury playbook. Spaces are open and airy. The sky is everywhere and surfaces smooth. Beige doors of indeterminate materials sport metallic handles one might find in the grandest airport hotels.
Indeed, the property has been available to rent for some nine months, priced at $39,500. In that capacity, Mr. Rossington said, it attracted interest primarily from diplomats—that fraternity of well-heeled transients—but found no takers.
When we visited, its current tenant, a friend of the owner lodged gratis on the lower level, was padding around alone, barefoot and quiet in an immaculate Fortress of Solitude.