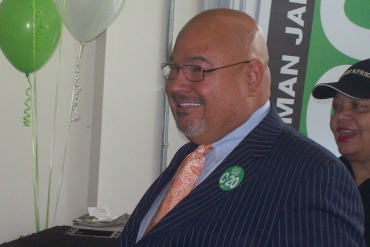 Nominated by Newark Mayor Ras Baraka for a municipal court judgeship, At-Large Councilman Carlos Gonzalez today declined the offer in a letter to the mayor.
"After much consideration and consultation with my family, friends and community leaders, I have decided to continue serving the community as a Councilman-at-Large for the great City of Newark," Gonzalez wrote. "My passion has always been public service.
Baraka and his allies had hoped to install Gonzalez in a judgeship so they could replace him with a Baraka ally from the South War, specifically South Ward Democratic Committee Chairman Pat Council.
When Gonzalez's North Ward allies found out about the offer, they talked Gonzalez – a county employee – back into the fold.
In his letter to the mayor, Gonzalez said he "hopes [Baraka] finds a suitable replacement for Bahir Kamil."
A source, speaking on condition of anonymity, said of Gonzalez, "He received a lot of pressure" to stay on the council.
He's one of at least four council people getting a paycheck from the county. The others are John Sharpe James of the South Ward, North Ward Councilman Anibal Ramos, and Central Ward Councilwoman Gayle Cheneyfield Jenkins.