Enter the stately James A. Farley Post Office—sister structure to the original Penn Station—on 33rd Street, and you'll find yourself in a cavernous warehouse with scuffed black tile. A massive skylight is held in place by wrought iron beams and the walls are nondescript. It's difficult to take in much besides the room's enormity. It's a three-dimensional blank canvas.
The 41,000-square-foot warehouse used to be a mail-sorting room. Now, after the floors are buffed and set pieces are installed, it's host to the likes of Prabal Gurung, who used it for his presentation last Fashion Week. Kanye West once gave a surprise performance right beneath the skylight. There've been rooms constructed within this room, tables propped up for luxe dinners, conferences held here.
The mail-sorting room only looks abandoned. It's actually one of the most exclusive event venues in the city.
This Fashion Week, Mr. Gurung will return along with Rag & Bone and Diesel Black Gold. But how do these designers find this massive, über-exclusive, government-controlled venue? That's where Skylight Group and its founder and CEO, Jennifer Blumin, 37, come in.
Ms. Blumin's mission is to find grand, empty spaces throughout the city, clean them up, then rent them out to the likes of Nike, Target, Ralph Lauren and Google for product launches, fashion shows and other high-profile events. Fees range from $40,000 to $1 million, depending on the venue's size and the duration of a client's stay. Those numbers are for the rentals alone and don't include the cash clients pour into decorating and designing the party spaces.
What characterizes Ms. Blumin's venues, in addition to their architectural interest, is sheer size; one of her finds is the 60,000-square-foot former southernmost terminal of the High Line, where 3.1 Phillip Lim and Ralph Lauren will show next week.
At a Google Play event at Skylight Modern, the tech giant "literally took half an airplane and put it into our space," she recalled. "They created almost this, like, Candyland experience for people who are attending."
Finding these hidden gems is "like urban archaeology," said Ms. Blumin, who has the clipped diction, free of likes and ums and uptalk, befitting the English degree she got from Cornell. She's a history lover with a wry sense of humor who, over the course of our interview, expresses her ambivalence toward celebrity culture, her tricky new iPhone, pre-Fashion Week juice cleanses and obsessive "mommy mafia" types.
"It's just walking the streets of New York and wondering, 'What's going on with this space? How high are the ceilings?' It's very much getting to understand the fabric of the city—having that sense of where the spaces will be as big and vast as possible and then what sort of transitions might be happening."
Ms. Blumin has found several party venues in the unused warehouses where shipping freights were unloaded after cargo cruised up the Hudson River. The former storehouses are now the third most popular option for fashion shows, following only Lincoln Center itself and Milk Studios.
She doesn't own the spaces; she and her crew oversee their renovation, memorize their ins and outs and century-old quirks, then find Fortune 500 companies and fashion designers to rent them out.
Some spaces are merely between uses; the post office is in the process of becoming an extension of Penn Station, with Amtrak as its tenant. Like most government projects, this one isn't moving very quickly. So enamored of the building was Ms. Blumin that she set up shop there for herself and her nine full-time employees in office space ripped from the 1960s, complete with wood-paneled walls.
* * *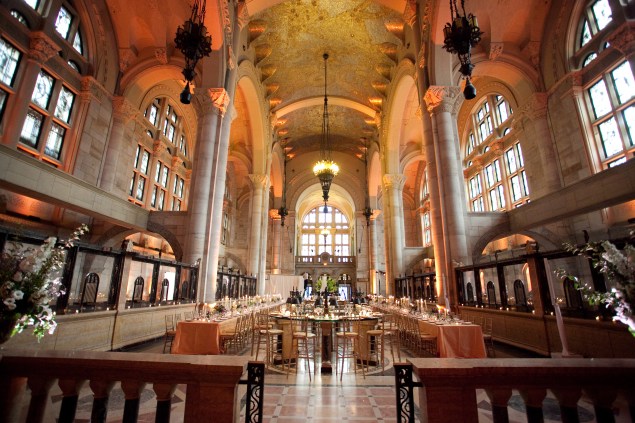 When Ms. Blumin was preparing to check out the Williamsburgh Savings Bank Clock Tower near the Barclays Center in 2005, she wasn't crazy about the idea—she had little desire to expand to Brooklyn. But when she saw the inside of the former bank, even though its rich, Byzantine splendor was covered up with linoleum floors and drop-ceilings, she fell in love with it immediately, then went home and stayed up all night to write a business plan.
"It was covered in dust and cobwebs and you could barely see what it was," she said. "You could see these crazy colors of marble showing through" the cheap tiles.
Also obscured were 63-foot ceilings that boasted a mosaic showing a 40-foot-tall mosaic showing New York City as a Dutch colony. There are carvings depicting an immigrant's journey through the city, including Ellis Island, a courthouse and the bank. The bank was an allegory for the immigrant's journey, reassuring customers that if they worked hard and saved their money, their children could enter the professional class, Ms. Blumin said.
After fixing up the interior, Ms. Blumin "hotly pursued" the Brooklyn Flea, which became a wintertime tenant. Wedding vows have even been exchanged in the bank's basement vault.
"Back then, there was so much faith in public institutions," Ms. Blumin told the Observer. "Unlike our drop-ceiling, fluorescent-lit government institutions today, they were meant to [convey] a certain amount of power to people."
Those days of awe-inspiring governments may be gone, but why not let Samsung show off a little historical muscle? "It inspires our clients," Ms. Blumin said, noting that many of them are tech companies that value being perceived as institutions. "Clients really draw from our stories and the narrative of our buildings. From a branding perspective, there's this common denominator of our shared history. It's the next iPad, the next iteration of the Samsung Galaxy, but at the end of the day it's this common city and common roots."
Ms. Blumin owes part of her success to the rise of social media as a marketing medium.
When clients such as Google and Target host affairs in Skylight spaces they are designed so the trendsetters in attendance will tweet, Instagram, Vine and Facebook their way through the room.
"At the end of the day, there's a small number of companies producing multimillion-dollar marketing events on this level," Ms. Blumin said. "They're more Hollywood-style set design than they are a party in a hotel ballroom."
For the Jason Wu for Target launch party at the now-defunct Skylight Soho, a replica of Paris was constructed, complete with a Sant Ambroeus pop-up and a Jason Wu boutique.
For Tommy Hilfiger's 2013 spring and summer fashion show, the designer took advantage of Skylight's two-year engagement on the High Line by marching his models down the walkway. His company built a cabana that was to be placed on the High Line with a crane. The day of the presentation, there was a tornado watch. It worked out—but it was "very intensive," Ms. Blumin said.
Ms. Blumin is about to set up an outpost in tech-centric San Francisco, but insists her business would never thrive in Los Angeles, which she characterized as "celebrity-driven" rather than "content-driven."
"The content [in Los Angeles] is Kim Kardashian in her red dress in front of the step-and-repeat," she said.
* * *
Ms. Blumin got her improbable start in repurposing real estate's forgotten gems while she was unhappily employed at a massive PR firm.
"I'm so not corporate and I was suddenly in this corporate world," she said. "I was realizing I didn't want to have a boss and I'm a creative person."
Her friend, Deborah Schoeneman, thought of Ms. Blumin when she was writing a profile of the eccentric Israeli billionaire Jonathan Leitersdorf for this paper around 2000. Ms. Schoeneman put Ms. Blumin and Mr. Leitersdorf in contact when he said he was looking for someone to mind his three-floor penthouse in the Dandy, a former hat factory near Bowery and Bond Street that he'd converted into condominiums.
"I basically convinced him that I could turn his penthouse into an event space and photography studio because he wasn't living in New York anymore," Ms. Blumin said.
How did a 23-year-old publicist with no architectural or event planning experience convince an international billionaire she could take care of his multimillion-dollar investment? "I can convince you of anything," Ms. Blumin insists.
Soon, Mr. Leitersdorf's 11,000-square-foot, five-bedroom, triplex penthouse was a bustling scene, playing host to events including the wedding of Jerry Seinfeld and Jessica Sklar.
With its famous rooftop pool overlooking the city's skyline, the apartment starred in several episodes of Sex and the City as playboy hotelier Richard's digs; Ms. Blumin was on hand when James Remar and Kim Cattrall shot a skinny-dipping scene there. Mr. Remar let it all hang out, Ms. Blumin dished, while Ms. Cattrall was more modest. The crew had to leave the room the moment her robe dropped.
She ditched the PR job, got to know Mr. Leitersdorf's partners, and parlayed the gig into her own business just before Mr. Leitersdorf sold the penthouse to Ron Burkle for $17.5 million in 2007.
Her next conquest was a former longshoremen's union meeting hall at Hudson and Spring in 2004, "which, back then, was not a great area," she recalled. But she saw the potential in the barren, wide-open space, and grabbed a broom. "It was a union hall back in the days when the dock workers were there, stuff was coming out of the Hudson River being unpacked there. It was this really industrial area of New York that was untapped at the time."
"We did a Sloan-Kettering benefit that year, and somebody said, 'Well, how will our drivers ever find this place?' " she recalled. "You felt like there was tumbleweed rolling down the block."
Of course, industrial charm isn't always so charming. A few years ago, a designer was holding a fashion show in an abandoned parking garage Ms. Blumin had restored. She'd had elevators installed so that the models could change on the renovated sixth floor before shooting down to the event on the ground floor. The elevators broke 30 minutes before the fashion show was due to start. In a panic, Ms. Blumin herself had to sweep all six floors of the staircase—"everyone else had jobs to do"—in case the elevator technician didn't show up in time to fix the lift.
"I get to the bottom," she said, "and I'm covered in black dust and hairballs from the '20s. I come out and I'm like, 'I'm here, I'm amazing, it's clean.' And then I hear the elevators go vroooooom."
The show then "went off without a hitch," she said.
Ms. Blumin makes it seem easy, but setting up shop in historic or abandoned venues isn't as simple as just grabbing the keys. When she wanted to occupy the post office, for example, she had to go through a lengthy RFP process to gain permission from the redevelopers turning the building into a train station. Making deals with owners and redevelopers is a lot harder than finding clients to fill them, she said.
Although Ms. Blumin will go to any extreme to make sure an event space is working out for her clients, she emphasizes that she's not an event planner. She doesn't manage the guest lists, for example, or what goes on during a product launch.
And she doesn't script the festivities, sometimes to her dismay. Ms. Blumin recalls having a moment, watching Mario Cuomo and Andrew Cuomo sharing the stage one evening at a party at the longshoremen's union.
"My dad's a historian and a super political New York guy," Ms. Blumin said. "I grew up worshipping Mario Cuomo and there he was on the stage with his son, and it was right after marriage equality passed … What a powerful moment. That is, until Kim Kardashian walked in and everyone started taking pictures of her."