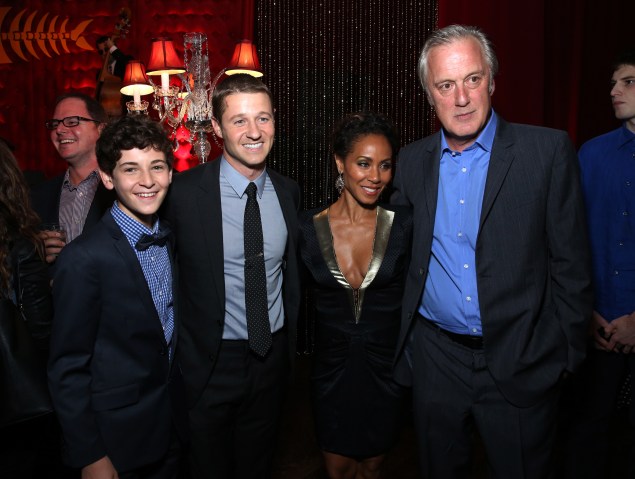 For one night only, the New York Public Library was transformed into the set of Gotham. This meant Gotham City Police cars parked outside, vibrant comic book lighting, and the entire second floor being fashioned into the nightclub owned by Jada Pinkett Smith's villainous Fish Mooney, live jazz band and all. Oh, it also included about twelve waiters dressed as the Penguin with cinnamon twists hanging from their umbrellas, but duh you'd assume that would be there. ("I'm an actor looking for work in the city," one of them told me. Have to start somewhere, I suppose.)
The party was held after a screening of the pilot episode (recaps to come!), and the cast mingled intermittently with smiling guests. The always frenetic Robin Lord Taylor, who plays the actual Oswald Cobblepot, was constantly surrounded by well-wishers and couldn't have looked any more excited about it. Cory Michael Smith, the show's Edward Nygma, recognized me from a past encounter and was as cordial and non-villain-like as always.
Sticking out like an incredibly small sore thumb was the 13-year-old David Mazouz, who portrays the adolescent Bruce Wayne. I ask the diminutive Batman how it feels to share a character with the likes of George Clooney, Christian Bale and Michael Keaton.
"What do you expect me to say? This is a dream come true! It's been amazing," he said, wearing a bow-tie and generally just being cooler than me despite being a decade younger.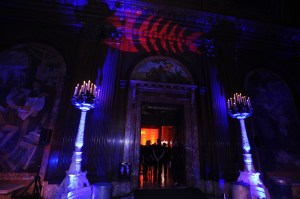 Desperate to to find someone older Moving on, I bumped into Gotham (and Rome, and The Mentalist) creator Bruno Heller. I asked how his nerves were doing just a week out from the television premiere of Gotham.
"It's out of my hands now!" he said in his casual London accent. "You sort of have to perform now, before the show airs. That's when you perform. Once it's out there it's out of your control."
Mr. Heller's eyes light up when I tell him I work for the Observer. "I'm a big fan of your publication. You've been around forever, you're a New York…" he says, spreading his hands and trying to find the word. "Presence. You're a New York presence."
I wonder how often Mr. Heller actually finds himself in the real life Gotham.
"It's back and forth, back and forth [between New York and LA]," he says. "And the flight is just short enough where you can't fall asleep but you can't really stay awake either. I've been doing it so much I sometimes wake up and forget which city I'm in. 'Where am I?' Then you see a building or something and you say 'Okay I'm in New York."
"That's the business, I guess," I tell him.
He smiles and nods, definitely agreeing, but all while looking fondly at the comic book come to life surrounding us. "Yeah, but we couldn't have filmed this show anywhere else."