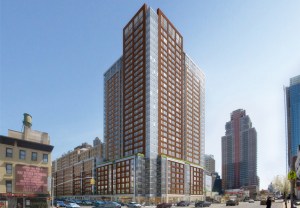 Gotham West, the mega development on the western edge of Hell's Kitchen, has 682 units of affordable housing, a number of which, The New York Post reported yesterday, are sitting empty. Particularly those in the middle-income bands, for households earning between $88,102 and $109,000 a month.
"Are there any middle-class New Yorkers anymore?" asked the Post. The answer is yes, of course, but they're most likely seeking better deals elsewhere as the empty units in question are priced at more than 30 percent of the qualified incomes, the measure by which HUD and a number of other housing agencies determine affordability.
For example, one of the empty one-bedrooms cited by the Post is open to households making between $88,102 and $95,865 a year, but the rent—$2,509 a month—is 35.5 and 32.5 percent of those respective incomes. For such a rent to be technically "affordable," a household would need to be pulling in $100,360 per year. Meanwhile, an empty two-bedroom priced at $3,020 per month would be open to qualified renters making up to $109,000—a salary cap for which a 30 percent rent tops out at $2,725.
According to HUD, households paying more than 30 percent of their income for housing are considered "cost burdened and may have difficulty affording necessities such as food, clothing, transportation and medical care."
Such pricing is not, however, uncommon in New York's middle income "affordable apartments," which are frequently set between 30 and 35 percent of qualified incomes, according to Moses Gates, the director of planning and community development at the Association for Neighborhood and Housing Development.
"While 30 percent is thought of as the housing policy definition of affordable, it's not a legal definition, and often affordable apartments go up to 35 percent," Mr. Gates said. "When you have units sitting empty the problem is usually a combination of the market and outreach."
Higher income bands, he added, are a lot broader and the further up the income scale you go, the more viable home ownership becomes. "There is generally much less demand for upper middle class rentals," he said. He added that affordable housing vacancies tend to occur in projects where there is a high community preference and the area median income, which is calculated across the entire metro area, is higher than neighborhood's median income.
Which does not seem to be the case at Gotham West, though the market and the availability of $2,509 a month units in desirable neighborhoods is likely playing a significant role in the units' vacancy. (Though the Manhattan rental average is $4,000 a month, that number is pulled up by some very posh units.)
Of course, given that the affordable units at Gotham West are new construction, boast high-end finishes, and are priced considerably below the market-rate units—the available market-rate one-bedrooms currently available are mostly priced between $3,600 and $4,000 a month—they're not a bad deal, per se, but not necessarily something that would make someone with a decent variety of housing options at the same price point want to go through the rigamarole of an affordable housing application and lottery.
Additionally, while more than half of the units at the 1,238-unit complex are "affordable"—financed by tax-exempt bonds from the state—the majority of affordable units are reserved for middle-income households, with just 250 of the 682 units set aside for low-income families earning less than $48,150 a year.