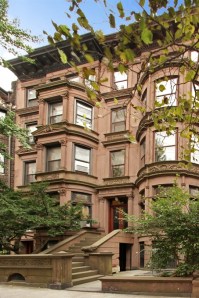 Cristian Vergara and his wife Nancy have lived in the grand old brownstone at 312 Garfield Place in Park Slope for some 18 years, raising three children in its 15 rooms. For a time, somewhat longer than had been advertised to him, Mr. Vergara's sister-in-law and her child even occupied the fifth floor, which features two large bedrooms—one of which the guests outfitted as a living room—plus a kitchenette and an alcove. The home is so large—nearly 6,500 square feet—Mr. Vergara told the Observer during a recent visit, that the suite functioned more-or-less as a separate apartment, making the extended stay almost entirely painless.
Currently on the market for $6.995 million—down from $9 million in April—the home is co-listed by Corcoran's Vicki Negron and Luis Martinez, of Betancourt Realty. A rambling, dignified (and enormous) specimen of the Victorian and Renaissance architectural styles that enjoyed popularity at the time of the its 1901 construction, the townhouse, which is also available to rent for $19,300 a month, has had some difficulty landing a buyer. As one broker familiar with the listing mused, "I mean, who needs nine bedrooms?"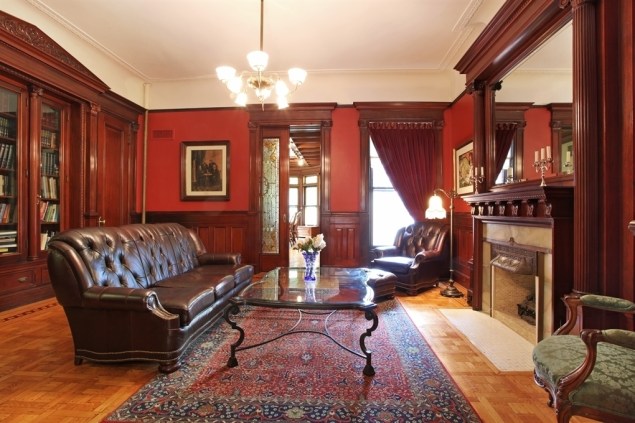 Still, the mansion—and it is indeed a mansion—which once belonged to the Livingston family, of Downtown Brooklyn street-sign fame, offers tons of beautiful throwback details to the house-shopper who's in the market for that sort of thing. (And who has, in all likelihood, a substantial renovation budget, and perhaps a taste for dryly humorous mystery novels set amid the early 20th-century upper class.) A dumbwaiter extends from the garden-level kitchen and laundry room to the upper floors of the building, and there is more dark, intricate wood paneling that can be reasonably kept track of—on walls and ceilings, stretched across decorative pillared entryways. There are original brass fixtures, most of which have been restored to a regal luster, ceilings of enviable heights, and stained glass can be found in skylights, transoms and standard windows alike. A creaky, seemingly endless staircase promises to announce the late-night arrival of teenage and college-age children—and probably cause a few small midnight scares.
The eventual new owners will not, of course, be starting from scratch. Mr. Vergara saw to updates of wiring and gas fireplaces, of which there are several, plumbing, bathrooms and kitchen appliances. When his family moved in, Mr. Vergara recalled, the real estate climate was very different. "At the time, contractors didn't have much work," he said. "They were very easy to get." Contractor availability may have become more scarce. But we're sure 312 Garfield's buyers will be able to scare up some interest, provided, naturally, that a favorable rate can be agreed upon.