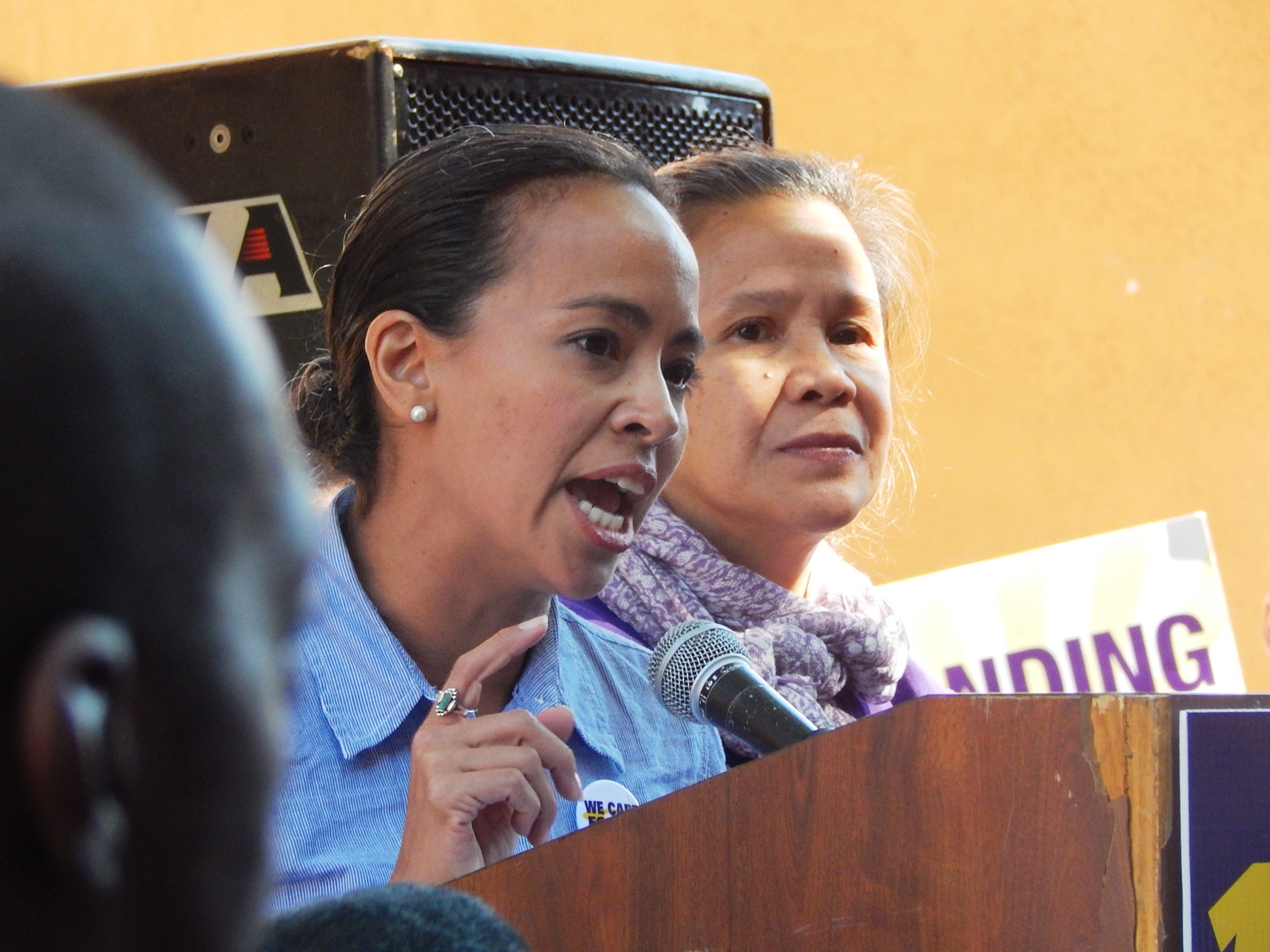 UNION CITY – They tried out their blue collar tough guy tonsils today in front of a purple-shirted crowd of striking healthcare workers – two of three as-yet-undeclared Democratic candidates for governor: Jersey City Mayor Steven Fulop and Senate President Steve Sweeney (D-3).
They might not have been the only ones interested in running for statewide office in 2017.
At the head of the rally stood 1199 SEIU Executive Vice President Milly Silva, last year's failed Democratic Party LG candidate, who if she doesn't run for governor in three years, at least signaled power base chops in the midst of these workers from Alaris Health on the second day of a series of three-day unfair labor practice strikes at four for-profit nursing homes in Hudson and Bergen counties.
"They need to come back to the bargaining table," said Silva (pictured), in reference to Alaris.
The workers say they decided to strike after months of contract negotiations during which – in their telling of the story – "Alaris committed numerous unfair labor practices, threatened to lock-out workers, and refused to move off unreasonable proposals which call for significant concessions from low wage workers who earn less than $25,000 a year, including higher health premiums costing hundreds a month for family coverage and a reduction in paid sick leave and other benefits for new hires."
The elected officials and Silva stood in the middle of 23rd street outside Alaris' Union City-based facility.
Union City Mayor Brian P. Stack, Hudson County Executive Tom DeGise and Assemblyman Raj Mukherji (D-31) joined the striking certified nursing assistants (CNAs), licensed practical nurses (LPNs), dietary aides, recreation aides, and housekeepers.
At the center of the drama, Fulop and Sweeney continued their playful statewide jousting match in Fulop's home county.
Stack's a well known Sweeney fan, and so it was unsurprising to see the slate-colored shoulders of the senate president towering above the crowd.
"When Milly called, I said absolutely," said Sweeney. "You're not making a lot of money. …This place wouldn't be anything without you."
When Sweeney mentioned that he was a union ironworker by trade, a roar went up from 1199.
Fulop appeared a few moments later.
"In the Marine Corps," he said, "we used to say 'Nobody gets left behind.' We believe in the core values that brought you here today."
The consummate New Jersey street mayor, Stack juggled both outsized personalities as he pointed a finger at the squat brick building on the other side of the street.
"You work harder than anybody else, so you deserve a decent wage from someone who's making tens of millions of dollars," said the senator/Union City Mayor. "The owner cares about one thing: the all mighty dollar."
Stack said he had to put his mother in an Alaris facility and he saw firsthand the work ethic of the care-workers.
"Some of these guys who make it to the top, they forget who put them there," Stack said.
DeGise and Mukherji added their voices to the uproar.
"We're going to hold the line until hell freezes over, and when hell freezes over, we're going to hold the line on ice skates," said the assemblyman.