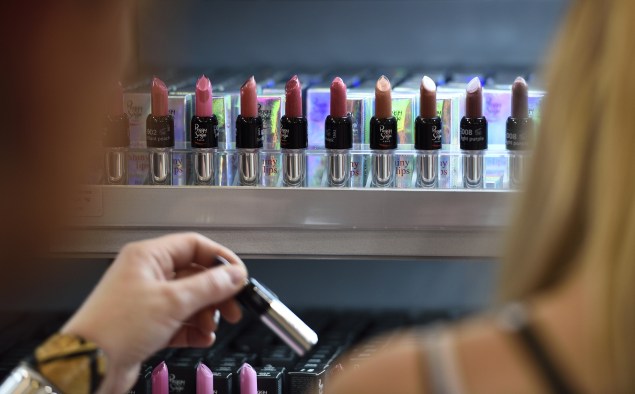 Everyone loves a manicure. Everyone also loves to ignore the risks inherent in visiting a nail salon. (Soak my fingers in a bowl of liquid acetone to remove my grown-out gels? Sure, whatever you say, as long as this only costs $20.)
So as ornate nail art continues its reign of terror/comeback tour, it might be time to examine the safety and cleanliness of New York City's nail salons. At least, that seems to be NYC Public Advocate Letitia James's thought process.
Her office released some alarming facts about manis and pedis yesterday, hitting the city's most stylish residents where it hurts: the days following Fashion Week, when we could all use a little pampering. Ms. James is hoping to institute some rules governing the city's nail salons, which, fun fact, are actually overseen by the state. The state has only 27 inspectors, who are tasked with ensuring that the 5,000 salons from Staten Island to the Finger Lakes are up to snuff. Yikes.
Rethinking that cheapo mani yet? If not, we've assembled a list of even more alarming facts culled from Ms. James's report. We left out the half dozen photos of toe fungus that her people so kindly included, though. For that, you'll have to use your imagination.
Here are some deets from Ms. James's report:
• When the Department of State inspected New York's salons from 2008 to 2012, they found a majority — 56 percent — to be in violation of health and safety rules.
• Customers have been infected with hepatitis and staph infections due to unclean conditions in nail salons.
• Toluene, formaldehyde and dibutyl phthalate — charmingly referred to by those in the know as the "toxic trio" — can cause reproductive harm, respiratory problems, cancer and birth defects.
• The FDA doesn't restrict these chemicals from being used because they're considered "safe when used as directed." (Inhaling them throughout your ten-hour shift as a nail tech probably isn't "as directed.")
• Of the 10,000 other chemicals contained in nail products, 89 percent have not been tested at all by independent agencies.
• Nail salon employees (of which there are 13,100 in New York) are most at risk, and they report frequent instances of skin problems, eye irritation, allergies, neck or back discomfort and asthma. Many work long hours and don't have health insurance. Imagine those health bills. In New York City, nail technicians earn an average of $8.95 per hour.
• There are no regulations governing proper ventilation in salons.
• Nearly 75 percent of nail salons in the U.S. don't comply with standards for disinfecting nail equipment. This includes reusing nail files and failing to sanitize foot baths. The latter can cause staph infections, hepatitis and bacterial infections.
• UV lamps used to dry your nails can be as harmful to the skin as tanning beds are. There is "little to no regulation on the manufacturing of these nail lamps," the report says.
Ms. James also has made a series of recommendations for the city to improve its nail salons:
• Establish "Healthy Nail Salons" incentive program to certify businesses that follow the rules, similar to the one in San Francisco. Only 17 of SF's 250 salons qualify as "Healthy," though, which is an eye-opener in and of itself.
• Ensure cleaner air in salons. This can be as simple as opening windows and running fans, or as complex as installing ventilation systems.
• Conduct a citywide nail salon safety study. (Please don't show us the results.)
• Provide multilingual health and safety information.
• Ensure employees use personal protective gear.
• Seek authority for the city to designate city nail salon inspectors.
In the meantime, we'll have to continue patronizing nail salons at our own risk — and think twice about hitting up the sketchy bargain-basement joints where they clearly reuse files just to save ourselves $10.