Harnessing the allure of so-called "tough luxe," Ian Schrager's opulent forthcoming condo development at 215 Chrystie Street aims to appeal to millennials, baby boomers and, of course, millennials with baby boomer parents apt to shell out $4,000 a square foot and up for a glass-walled graduation gift on the sunny Lower East Side.
But if those prices seem audacious in a neighborhood where average per-square-foot-price is $1,180, Mr. Schrager, whose previous works include the Gramercy Park Hotel and the celebrated 40 Bond condominiums, appears to know his public: among current shoppers for a full-size, 4,236-square-foot spread is a Park Avenue couple interested in using the place for the complementary purposes of art storage and entertaining—as a kind of interesting weekend getaway south of 14th Street. (215 Chrystie will house eight half -floor and three full-floor units.)
Due to open in winter 2016 atop a connected, Schrager-developed hotel, 215 Chrystie "is the ultimate expression of uptown meets downtown," Mr. Schrager said. "It is both tough and refined at the same time."
Though last week, when we visited the ground-floor showroom off the Bowery, where the development's sales office is located, the refined seemed to have triumphed decisively over the tough. (The 215 Chrystie address itself remains for the time being an early-stage construction site.)
The architectural firm of Herzog & de Meuron, which also worked on 40 Bond, handled the project's design, whose hints of local grit have been all but effaced in favor of frictionless composition that seems to suggest freedom from unpleasant obligations, leisure without limit. Interiors have been liberated from freestanding columns and floor-to-ceiling walls of glass will be mitered together at the building's corners, granting views unobstructed by mullions.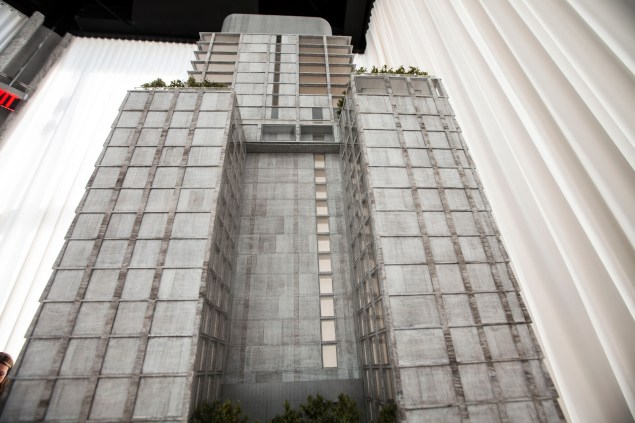 Living and dining spaces have 12-inch white oak floors, while darker walnut paneling frames rooms and makes for handsome, extensive kitchen cabinetry, seemingly constructed to hide all evidence of occupancy—food, appliances, utensils—any traces of the necessity of sustenance or labor. Surfaces are matte and interior appointments, courtesy of Minimalist-friendly designer John Pawson, evince Scandinavian tone.
The theme continues in bathrooms, where palettes hew toward chalk. Materials are smoothed natural stone and concrete. And even the rude business of ablution has been secreted, with a toilet cornered in a separate closet and a shower that empties into a kind of long, gentle conduit, carrying water off without so much as a burble or a burp.
"Let me tell you about the very rich," F. Scott Fitzgerald once wrote. "They are different from you and me."