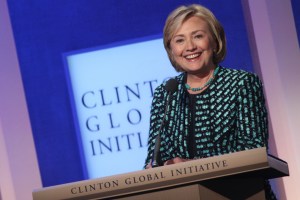 Hillary Clinton's possible 2016 presidential campaign began around November 5, 2008, but really took off after she stepped down as Secretary of State in January of 2013. Ms. Clinton's non-campaign has bolstered her political fortunes, keeping her in the spotlight while most other potential candidates for the Democratic nomination have had to all but freeze their campaigns until they know for certain whether or not Clinton is running.
There is little reason to think Ms. Clinton might not run as she has in almost every way behaved like a candidate for well over two years now. With the time to make a final decision fast approaching, Ms. Clinton went to Iowa this weekend to participate in Senator Tom Harkin's annual steak fry and to almost campaign. The trip predictably heightened speculation that the country's former top diplomat is indeed running for president, but it also may have been a reminder to Ms. Clinton that being an almost candidate is a lot easier than being a real candidate.
When two young Latinos asked her tough questions about immigration policy, Ms. Clinton seemed a little taken aback and replied cryptically that "we need to keep working." After further questioning, Clinton added "I think we need to elect more Democrats." Perplexingly Ms. Clinton seemed somewhat flustered by the interaction. Fortunately for the woman who has become the presumptive Democratic nominee, the first caucus is still well over a year away, but the interaction should demonstrate to Ms. Clinton the difference between positioning herself for a race and running in that race. More broadly, this incident is a reminder that although Hillary Clinton has done a great deal to improve her image and build political support, she has never been a natural on the campaign trail and is unlikely to be one in 2016.
Lincoln Mitchell is the national political correspondent for the Observer. Follow him on Twitter @LincolnMitchell