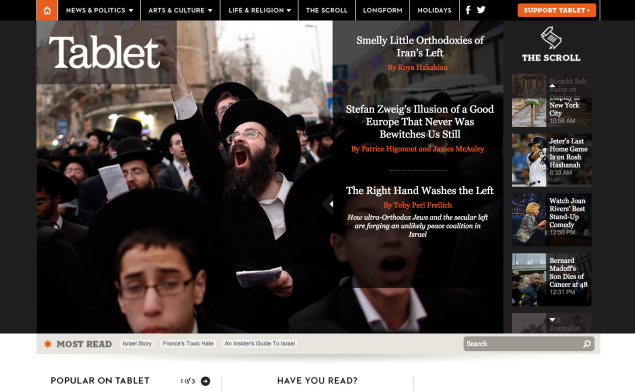 The war in Gaza may have ended for now, but over the last two months the New York Jewish media has staked out positions at odds with where many would have expected.
The Jewish Week remained predictably pro-Israel. "My suggestion for those who seek a deeper understanding of the roots of this war is simple: study the Hamas Charter," editor Gary Rosenblatt wrote. The Jewish Daily Forward hewed to what editor Jane Eisner told me is the "liberal lament." In one editorial she wrote: "We who support Israel in this endeavor have to own it, too. We have to accept that too many innocent lives have been lost, and recognize the lasting damage such destruction leaves in its wake." The Jewish Telegraphic Agency, a wire service providing content to Jewish papers around the world, did not editorialize.
The one outlet that surprised many during the war was Tablet. With contributors like ex-Orthodox writer Shalom Auslander and Israeli post-modern short-story writer Etgar Keret, the high-brow online magazine has been known for its exceptional Jewish arts and culture coverage since its founding five years ago.
But during the summer, Tablet ran stories with headlines such as "Hey Liberals Who Oppose Israel: You're All Right-Wingers Now," "Why I'm Unsubscribing to The New York Times" (Leading Reform rabbi cites newspaper's one-sided coverage of Gaza War), and "Zionism For Refugees."
To be sure, Tablet ran some stories from the left, such as the Voices from Gaza series (whose writer has since left), but the overall coverage could be summed up in former AP correspondent Matti Friedman's 4,000-word story posted the day the latest ceasefire was announced. He explains what we should learn from the Gaza conflict: "It lies instead in the way the war has been described and responded to abroad, and the way this has laid bare the resurgence of an old, twisted pattern of thought and its migration from the margins to the mainstream of Western discourse—namely, a hostile obsession with Jews."
What happened to Tablet?
How did this "daily, online magazine of Jewish news, ideas and culture," which offers thoughtful pieces challenging many of the religion's tenets, ("Becoming an Unaffiliated Jew: Why I Left My Synagogue"; "Sorry God") suddenly start sounding like a long-form elucidation of the Israeli government?
Was it just the war in Gaza—and the rampant anti-Semitic activity around the world that followed? Or was it a reflection of something deeper in the Jewish community, a shift to the right even from the most liberal members of the tribe?
Turns out, neither.
"No matter what their editors and writers might say or even think, there's a lot of dishonesty at and about Tablet, which only pretends to be [1] independent, [2] post-ideological, [3] journalistic, [4] cool and [5] edgy," Professor Zachary Braiterman, who teaches modern Jewish thought and philosophy in the Department of Religion at Syracuse University, wrote on his blog.
Just in March, Princeton student Joshua Leifer wrote on Medium that: "Tablet Has A Politics Problem." "Tablet uses its tolerant, liberal bent on issues of culture or lifestyle as a counterweight to its staunch, right-wing position on Israeli politics, hiding in plain sight an ideology far to the right of that of its readership. Tablet's politics, though buried between stories about hamentaschen recipes and potentially Jewish celebrities, amount to justification and support for Israel's illegal occupation and settlement of the West Bank."
And that was before Gaza.
During the war, many in the Twitterverse were surprised by its vociferous coverage. But editors of other Jewish newspapers—who would not comment about competitors—were hardly taken aback. They know that funding for Tablet comes from neoconservatives. And considering that The Weekly Standard senior editor Lee Smith is a columnist for the news and politics vertical, the Gaza coverage is on par with their general political coverage.
"I think they started out as kind of anything-but-Israel kind of liberals," someone who used to work there told me, "but they became the kind of American Jews that don't tolerate much criticism of Israel." (That's hardly the de-facto position for all Jewish publications. The Forward, for example, recently published an "8-Point Guide to Criticizing Israel Productively" and Haaretz, Israel's leading left-wing daily, featured articles with lines like this: "It's a society that is denying itself to death, fleeing from the news and lying to itself in its propaganda and its hatred.")
But Tablet acting editor-in-chief Mark Oppenheimer rejects any shift in tone for the pub during the war—although he notes that they moved beyond just arts and culture coverage years ago.
"Our writers continued to suggest the lion's share of their own topics, and our editors continued to say yes to anything that was smart and offered something new. Same for many regular freelancers," he said in an email interview. "We ran interviews with Gazans sympathetic to Hamas, and we ran stories with a clear pro-Israel slant. And lots of stuff harder to peg politically. I loved this piece [on a one-state solution], for example, which some saw as far-left and others as ultra-Zionist." He also noted that the donors had not interfered with the content "one iota" and he's had 100 percent editorial independence.
In fact, when asked if there was an editorial position, he responded: "No, no editorial position at all."
And therein lies the problem.
Every newspaper has an editorial stance, featured prominently on its editorial pages, regardless of so-called objective news coverage. A publication like Tablet – which relies on commentary, essays, (unsigned) opinion pieces and features as opposed to straight reportage – should admit to having one, too, and not hide behind the claim that they publish willy-nilly a right-wing piece one day, and a left the next, depending on the whim of the particular writer or editor.
By denying their bias, Tablet is guilty of exactly the journalistic sin they attributed to The New York Times: "By playing coy with readers about the reasons why coverage is so imbalanced, the Times may think that it's defending the work of its reporters and photographers. In fact, it's making them and the paper look foolish …"
Amy Klein is a New York-based writer who has written for most of the Jewish publications mentioned. Follow her @amydklein