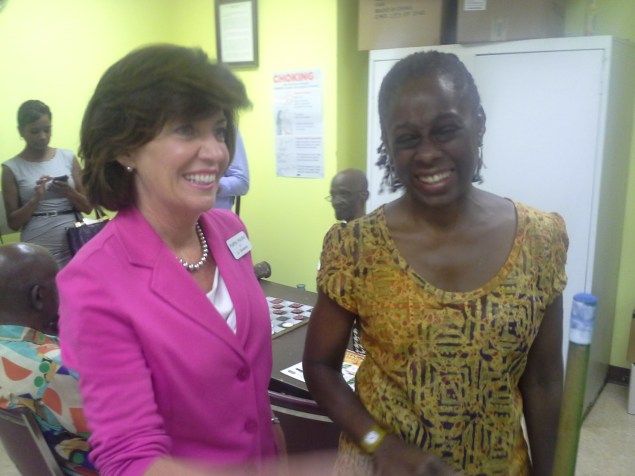 Kathy Hochul claimed this afternoon that she is "not sensing" the momentum of Tim Wu's campaign for lieutenant governor, despite the New York Times and several unions endorsing Mr. Wu over herself.
"I'm not sensing momentum," Ms. Hochul told reporters outside the St. Louis Senior Center in Crown Heights, Brooklyn, where she stumped for votes with Chirlane McCray, Mayor Bill de Blasio's wife. "You wanna peak on Election Day? This is my fourth election in five years. I've been underestimated in many of my runs for office. I know how to do this."
Ms. Hochul, Gov. Andrew Cuomo's candidate for lieutenant governor, has vastly out-raised Mr. Wu, a law professor, just as Mr. Cuomo has a daunting financial advantage over his rival in the Democratic primary, Zephyr Teachout. But while Mr. Cuomo's name recognition far outstrips Ms. Teachout's–she is also a law professor who has never run for office before–Mr. Wu and Ms. Hochul are on more even ground. A former Buffalo area congresswoman, Ms. Hochul is a relative unknown in the rest of the state.
Surrogates like Ms. McCray and local Assemblyman Karim Camara, who accompanied Ms. Hochul to the senior center to schmooze with voters as they readied to play bingo, have been trying to counter Mr. Wu's apparent surge. The Times, along with some liberal Democrats, have knocked Ms. Hochul's record in Buffalo: representing a conservative district, Ms. Hochul was a moderate who earned praise from the National Rife Association and fought a plan, when she was Erie County clerk, to give drivers licenses to undocumented immigrants.
But Ms. McCray, who like Mr. Camara is well-known among the minority enclaves of central Brooklyn, insisted today Ms. Hochul is a liberal in the mold of her husband.
"I know that when she was elected to Congress, that she fought the good fight against the Tea Party to make sure they did not take away Medicare and Social Security benefits from our seniors. So she knows what to do," Ms. McCray said.
"We need a partner. The whole de Blasio administration is behind her because we need someone like her in New York State," she added.
Ms. Hochul gave a populist pitch to the group in the senior center.
"I started very humbly. My grandparents came from poverty in Ireland looking for a better life for their kids," she said. "My mom and dad started in a little run-down trailer. We didn't have a lot, but [had] a lot of love. My parents taught me values and they taught me that my responsibility, as long as I'm on this Earth, is to make lives better for other people."
She also told the seniors she fought, in her one term of Congress, to keep Medicare from becoming a voucher program. Her populism, however, hasn't extended to holding a televised debate with Mr. Wu. When pressed by reporters today, she appeared to rule out that she would ever share the stage with Mr. Wu.
"There's gonna be plenty of advertising going out there but I'm a grassroots campaigner. Always have been, always will be. The most important decisions are made when you meet people one-on-one," she said.