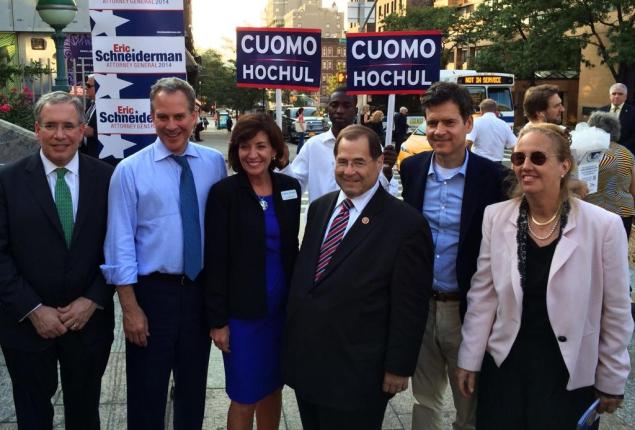 Rival lieutenant gubernatorial candidates Tim Wu and Kathy Hochul came face-to-face today at an evening campaign stop in Manhattan, where Ms. Hochul flatly turned down a direct invitation from Mr. Wu to debate before Tuesday's Democratic primary.
Ms. Hochul, running mate of Gov. Andrew Cuomo, arrived first at the 96th Street 2/3 train stop–and was quickly joined by a host of supporting pols from the surrounding area, including Comptroller Scott Stringer, Attorney General Eric Schneiderman, Congressman Jerrold Nadler, State Senator Brad Hoylman and Manhattan Borough President Gale Brewer.
After about 15 minutes of the Manhattan electeds shaking the hands of exiting commuters and introducing them to Ms. Hochul–a former congresswoman from western New York–Mr. Wu came out of the train station with two campaign aides. Mr. Wu, the running mate of Mr. Cuomo's long-shot challenger, Zephyr Teachout, approached and shook hands with Ms. Hochul.
"Hi, I'm Tim Wu. Kathy, it's a pleasure to finally meet in person," Mr. Wu said.
Ms. Hochul echoed the greeting, and Mr. Wu started to walk away with his aides–however, a person who would only identify themselves to the Observer as a campaign worker for Mr. Schneiderman nudged him and urged him to press his opponent to argue the issues.
"You should ask her if she wants to debate," the self-identified aide said. The Schneiderman campaign has since denied this individual was one of their employees.
'Mr. Wu then turned back and approached Ms. Hochul again.
"Can we do a debate?" he asked.
Ms. Hochul shook her head and said something inaudible. Mr. Wu related her answer moments afterward.
"I asked if we're doing a debate. We're not having a debate, she said," Mr. Wu said.
Ms. Hochul recalled her response slightly differently later.
"I said we're not going to have time at this point," Ms. Hochul said, adding that the travels of her far-spanning campaign prevented her from debating at an earlier point. "I have been trying to crisscross this entire state. This is where I'm focused, meeting people firsthand."
All the pols remained at the station for more than an hour, Ms. Hochul and her supporters handing out literature showing herself with Mr. Cuomo, while Mr. Wu gave out palm cards touting his endorsements from the New York Times, the New York Observer, the Public Employees Federation and other groups and publications. Most people leaving the station pushed by with eyes averted, as though passing particularly distasteful panhandlers.
"It's never pleasant," Mr. Schneiderman told Ms. Hochul under his breath at one point.
Some, however, were more receptive.
"I wasn't going to vote in the primary til I saw you was running. We need to get some females in there," one voter, Carlton Willoughby, told Ms. Hochul.
Mr. Wu had some backers present as well.
"You got my vote," said Patricia Loftman, who came to the event with a homemade "No to Cuomo" sign. Ms. Loftman said she was furious that Mr. Cuomo and Ms. Hochul had not addressed the death of Staten Islander Eric Garner. "For African-Americans, that is our sole issue."
Mr. Nadler talked up Ms. Hochul with several passersby he knew personally. The congressman recalled being impressed with her performance during her stint in the House of Representatives from 2011 through 2012.
"Watching her stand up and go toe-to-toe with the Republicans. She represented the most Republican district in the state, but she would stand up and speak about progressive values," Mr. Nadler said, adding he could not recall any votes Ms. Hochul made that he disagreed with. "I don't remember, you cast a billion votes. You don't analyze a colleague's voting record, you watch what they do and what they say."
Asked specifically about Ms. Hochul's 2012 vote to hold Attorney General Eric Holder in contempt of Congress, Mr. Nadler's memory improved.
"That I disagreed with. I was very much opposed to that," Mr. Nadler saying, before recalling a saying by former Massachusetts Congressman Barney Frank. "'If I wanted to agree with everything a candidate says, I'd have to run myself.'"
Ms. Hochul said she was enormously appreciative of the support from the Manhattan elected officials.
"Their validation of me has been tremendous," Ms. Hochul said.
Mr. Wu said he believed many of the high-profile endorsements Ms. Hochul's campaign has rolled out in recent days have been disingenuous.
"No one has any passion or enthusiasm. They're just speaking in code," the candidate said, feigning a mutter. "'Oh, we're very happy to be here today endorsing Kathy Hochul.'"
Mr. Wu claimed his campaign was the one with true momentum, citing a internal poll–though he refused to disclose its exact findings.
"We were very happy with the results," Mr. Wu said.
Updated to include the Schneiderman campaign's disavowal that the person who encouraged Mr. Wu to ask Ms. Hochul to debate was one of their employees.