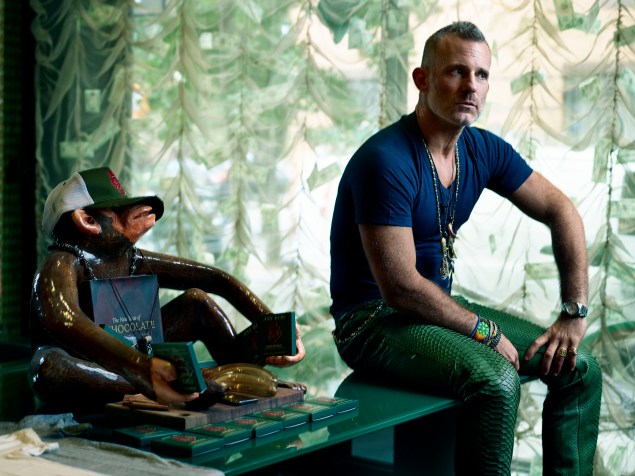 "Seasonal dressing" makes sense when using heirloom tomatoes and basil infusions in the summer and pumpkin flavors in the fall. Referring to it as a way to determine your outfit for the day will result in failure. Sticking to such fashion rules will leave you feeling uncomfortable and off your game. In a nutshell, if it's September and 90 degrees, just wear the white linen pants and hold out your hands so the fashion police can 'cuff you.
The problem is, retail is set up today to be all about the stores and not about you or the weather. The concept of seasonal dressing is the reason why the big retailers attempt to sell you feather down ski jackets in July, you know—just in case.
Retail is all about new collections and sales. Lacking any new or innovative creativity behind the concepts, brands all hop on the same bandwagon to produce collection after collection. The aim is to make you think you really need the newest thing, before gearing everyone up for yes, you've guessed it, the sale. The merchandise either moves at high-speed and if not, it gets increasingly reduced and then sent out of the back door to the discount warehouses. This almost guarantees that when you actually need that ski coat in February, when it's 20 below and you're heading off to Aspen, it will be unavailable. A few weeks ago I went to buy a bathing suit for my 14-year-old daughter. In almost every store I visited, a representative told me, "We don't have them anymore it's off season." This was in August.

I sometimes think the fashion retail trade invented the phrase about not wearing white after Labor Day. There's an argument that the phrase only refers to dress shoes for gentlemen, but for me it comes down to $$$. Big business wants to ensure they are able to turn the fashion wheels come September and sell what they make with no regard to the actual temperature, cue seasonal dressing. To my mind: comfort, confidence and peace of mind rule. Don't be afraid to put on a cashmere sweater if it's 50 degrees in June at night and sure, throw on a straw hat in November if it's 70 degrees and you are trying to avoid the sun.
Most guys are smart about seasonal dressing and leave the quibbling to fashion magazines. This is where the un-emotional, pragmatic side of the male character is useful. Clothes just have to work and this is the approach I see in many of my clients, winter and summer. Recently I did a suit order for an executive for what he refers to as his "business meeting attire." He feels he best represents his business in navy blue suits with white shirts and likes to keep the style so simple that the weather is never a factor. To achieve this, he orders suits in a super-light woollen fabric that can be worn all year round. Although this is not the best business model for the retailer, it has merit considering summer air conditioning and winter heat in offices. Most keep a regular temperature throughout the year, where a jacket can or cannot be worn. Seasonal dressing to this guy is whether he strolls down the street wearing the jacket, or with it slung over his shoulder.
Out of the office, fall is a chance to break out the stuff guys really enjoy wearing or feel most themselves in. The leather trousers might have been stashed away for a couple of weeks back there in August but now you can break them out again. Even though we should be dressing for the weather, certain uniforms that come with the idea of seasonal dressing are fun every time. Just as some guys can't wait to get into their linen shirts and shorts in summer, there are plenty who are dying for their favorite leather jackets, jeans and boots, come fall. For FW14 most of the runway collections featured leather but for some guys, wearing it is more a way of life than a fashion trend. On a personal level, changing clothes with the seasons is an authentic statement of identity and a collaboration with Mother Nature. Seasonal dressing is a big-store concept most of us can do without.