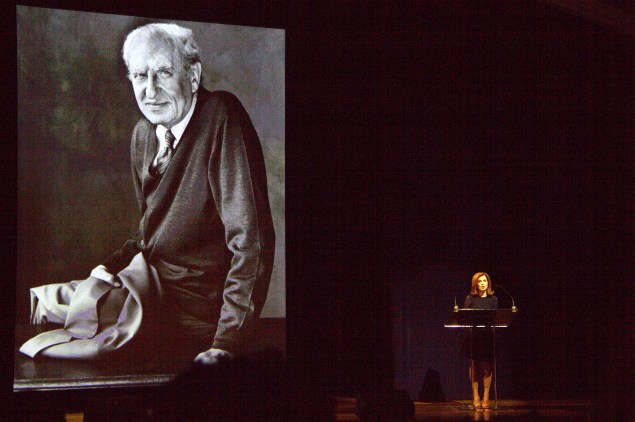 On Tuesday, nearly 600 people gathered for a reunion of sorts inside the Eugene O'Neill Theater. The room was full of chatter as those present shared memories of their time spent with legendary journalist, Arthur Gelb. A portrait of a wistful looking Gelb, who passed away on May 20, 2014, at the age of 90, looked on throughout the two-hour ceremony.
Speakers at Mr. Gelb's memorial included his eldest son Michael Gelb and longtime friends and colleagues Maureen Dowd, Bernard Kalb, Robert Klein, Gay Talese, Marian Wood and Frank Rich. The memorial began and ended with performances by Kelli O'Hara and Eric Owens, in commemoration of Gelb's commitment to the theater.
As The New York Times wrote in his front page obituary, Gelb was a lifelong journalist. He began as a copy-boy for The Times and worked his way up to managing editor before his retirement in 1989. He was a renowned culture critic, reporter, and editor for the paper.
A proponent of the theater, Mr. Gelb's work was critical in assisting the careers of Lenny Bruce, Woody Allen, and Barbara Streisand, among others. Andre Bishop, the Artistic Director of Lincoln Center, told the Observer that Gelb was "unbelievably supportive of off-Broadway theatre" in a time when it wasn't getting much attention. "He was a real enthusiast for anything new and young," Mr. Bishop said.
In addition to his work with The Times, Mr. Gelb, in collaboration with his wife Barbara, was a biographer of playwright Eugene O'Neill. George C. White, the founder of the Eugene O'Neill Theater Center, told the Observer that Gelb's passion made him an influential force in the theater. "He never worked passively," Mr. White said.
Each audience member had their own memories of Gelb. Some, like lifelong friend Barbara Harris, had "a million, too many to talk about." Each speaker offered their own recollections of Mr. Gelb's personality but with one singular theme: his enthusiastically overzealous approach to all things. Ms. Dowd, a protégé of Gelb, remembered being exhausted by his "radical vitality" as he bombarded her with ideas. Mr. Talese, who worked under him on the metro desk, recalled Gelb's passion for every story that he assigned. Gelb would confidentially whisper story ideas to his reporters, always ending with the same phrase: "And remember, there's a great interest in this story."
Gelb's dedication and dogmatism established him as a powerful force in the worlds of the Times, the theater and journalism as a whole. A guiding light for all who knew him and for those who intend to follow in his footsteps, perhaps mentee Frank Rich said it best: "I will cherish him forever, but it still feels as if the North Star has vanished from the sky."