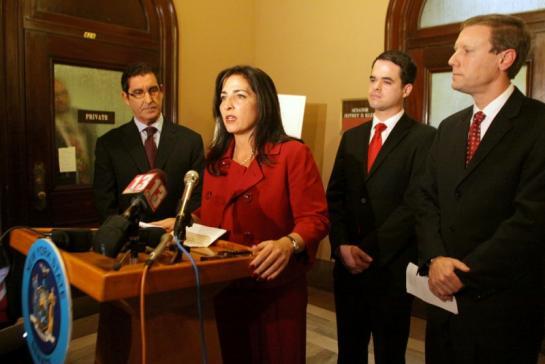 The IDC Initiative, the fund-raising arm of the State Senate's breakaway Independent Democratic Conference, is pumping money into the campaigns of Assembly candidates backed by the Bronx County Democratic Party–which has close ties with the IDC's leader, Bronx State Senator Jeffrey Klein.
The Initiative's last two filings with the state Board of Elections show it gave $4,100, the maximum allowed amount, to Bronx Assemblymen Marcos Crespo, Jose Rivera, Michael Benedetto and Luis Sepulveda, all of whom have establishment backing. It also gave the maximum to Latoya Joyner, who ran with the county's support for Councilwoman Vanessa Gibson's former seat in the state legislature, and to Marsha Michaels–who lost her establishment-backed bid to succeed jailed ex-Assemblyman Eric Stevenson to former Obama administration staffer Michael Blake.
In fact, state records show Ms. Joyner and Ms. Michael shared the same Manhattan campaign headquarters, even though the seats they sought only covered the Bronx.
During the month prior and weeks after the September 9 primary, these six Assembly candidates were the only politicians the Initiative funded, with the exception of State Senator Adriano Espaillat, a non-IDC member whom Bronx County supported in his bid to unseat Congressman Charles Rangel earlier this year. Mr. Klein–who serves as co-Majority Leader of the State Senate thanks to a power-sharing deal forged with the Republicans in 2012–has been close to the county establishment his entire career, and Bronx sources say he wields considerable influence in the party due to his fund-raising prowess and powerful position in the legislature.
The IDC Initiative said that it dabbled in the Assembly races only to help those it regarded as allies or as strong community leaders.
"The IDC Initiative supported, in both Senate races and Assembly primaries, candidates who are our legislative partners in government," said spokesman David Keisman. "Others are well regarded and tenacious advocates for their neighborhoods."
Mr. Keisman, however, would not answer questions as to why the Initiative only funded Bronx County-supported candidates. Bronx County echoed Mr. Keisman's statements, and his silences.
"It appears that the IDC Initiative agrees that these are excellent candidates and they have earned its support," said spokesman Patrick Jenkins.
Mr. Sepulveda, however, acknowledged that his relationship with Mr. Klein lay at the root of the Initiative's generosity–though he said he would like to believe it was also a reward for his "excellent work" in Albany.
"My interest is in working with a senator who represents a portion of my district, and that's Senator Jeff Klein, who's been a very good senator, very responsive to our needs, has been very effective in his capacity as one of the Senate leaders," Mr. Sepulveda said, adding he had engaged in no conversations with Mr. Klein prior to receiving the contribution. (Mr. Sepulveda has also been at odds with the Bronx machine, endorsing Bill de Blasio's mayoral bid. His chief of staff also raised eyebrows when he steered an independent expenditure against the future council speaker, Melissa Mark-Viverito, once an enemy of Bronx County.)
Mr. Klein's press representative, Candice Giove, said she was unable to speak to the Initiative's expenditures.
Besides Mr. Klein, the IDC consists of State Senators Diane Savino of Staten Island, Tony Avella of Queens, David Carlucci of Rockland County and David Valesky of Syracuse. The splinter quintet agreed in June to a new arrangement with the Senate Democrats to take the upper house of the legislature out of Republican hands–though some doubt the deal will survive to next year.