There's an app to quantify, measure and keep track of every facet of our lives: our schedules, our bodies, even our vital signs. But at the end of the day, isn't your well-being the only thing that really matters? No sweat, we're gonna quantify that, too.
Happyness is a free iOS app that serves as an analytics dashboard for your state of mind. The app was made by a trio of U.C. Berkeley students who wanted to make something useful instead of slogging through a summer internship.
"A lot of apps try to improve people's happiness with games and exercises," Happyness founder Matt Chiang told Betabeat, "but Happyness helps you change your own habits. We think that's the best way to help someone."
[youtube https://www.youtube.com/watch?v=gjw1B6rjsiE]
Every day, the app asks you to input your mood with an optional space for a journal entry. On a second screen, a calendar and graph show you how your mood is changing over time. The app works totally offline, and you can schedule a daily push notification to remind you when it's time to use it.
We decided to give Happyness a shot, because anything that can give a jaded reporter a little pick-me-up is a welcome change. It takes about two minutes to do a daily entry, and typing a short log of what affected our mood really honed our focus on what factored into our mood. Then again, that function could also be fulfilled by simple journaling.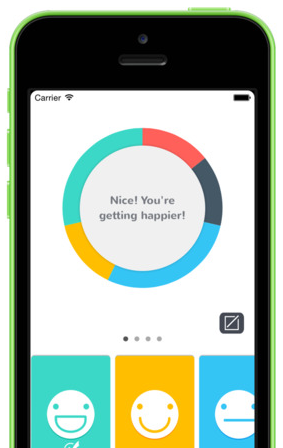 We also found the app a bit basic. It's definitely convenient that it only takes a few minutes to fill out an entry, and that it doesn't overload you with a sea of superfluous data. Still, it'd be a nice addition if the app could tell you anything about what's helping or hurting your mood. In order to get those detailed insights now, you have to go looking for your high points and hope you kept a detailed enough journal entry to find a pattern.
But the biggest issue with Happyness isn't the app itself, so much as the essential nature of "quantified self" apps and gadgets. Like with health wearables and New Year's resolutions, eventually the novelty wears off. Day by day as we tested the app, we stopped filling out the journal entries and started ignoring the push notifications.
It's a problem Mr. Chiang saw coming even before he released the app.
"People could use it for a few days and then forget about it," Mr. Chiang said. "We're still trying to come up with better ways to keep people engaged."
But like a New Year's resolution, it's at least worth trying. The worst that could happen is that you become slightly more aware of what lifts you up and makes you tick, if only for a little while.