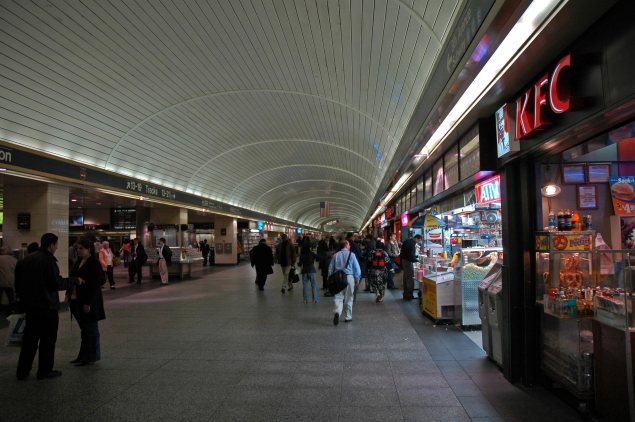 In the long term, hardly any resident of, or regular visitor to New York avoids Penn Station. There it squats, obdurately begrimed in the lee of Madison Square Garden, a fetid nexus for passengers making Manhattan transfers, as well as those bound for more far flung locales. No entrant escapes its miasmas. Even Amtrak's Acela riders find nothing to show at Penn Station for their exorbitant fares but a grim, half-scrubbed corral reserved for their waiting. And as Times transit reporter Matt Flegenheimer observed yesterday, in a delightful little feature, the dining options at the subterranean depot are very of much of a piece.
Small, saggy pretzels, questionable tacos and pizza parlors that "fumble marinara sauce," to the detriment of both floors and palates await hungry commuters, Mr. Flegenheimer writes. He finds a cockroach "about as along as a Metrocard" at Island Dine, where a Midtown worker, one of very few non-travelers who eat at Penn Station, is taking lunch. Another, though smaller, scuttles in a local KFC. TGI Friday's, one of two in the station's immediate vicinity, does not stand up to the chains at the generally much-grander, and cleaner, Grand Central across town: Shake Shack, Michael Jordan's steaks, a fancy coffee emporium. Nor can Penn's Tracks Raw Bar and Grill, where "retirees pack the bar, stopping by when they find themselves in the neighborhood" and "customers and staff members know one another by name," compete with the fabled Oyster Bar.
But of late, building officials have intimated that a number of Penn Station's current dining tenants might be shepherded out to make room for retailers more in "the Grand Central mold." (The changes reach beyond Penn Station; even the benighted Port Authority has a Green Market now.) "…Amid heavy development in the area and the planned construction of Moynihan Station, a companion rail hub across Eighth Avenue," Mr. Flegenheimer writes, "some transportation officials hope to recast the complex…as a dining and retail venue to be sought, not a rail stop to be tolerated."
Penn Station's culinary shortcomings are, of course, products of more than just sub-par cuisine and insectoid infestation—problems, likely unsolvable, of light, air and architecture, to name just three. It's hard to imagine anyone "seeking" the place, theoretical Danny Meyer incursion notwithstanding. And there's also the fact that the train terminal remains one of very few places in Manhattan south of 125th Street that might still reasonably be called "gritty." No one looks good down there and everyone plans to take a shower when they get home; one senses that the possibility of being pick-pocketed, or contracting a rare, airborne strain of tetanus might not be entirely out of the question.
Strangely, as Manhattan gets steeped more and more in products and places luxurious, curated and sterilized, it is the evaporation of such environs—albeit mostly with more historical and cultural cache—that many lament. Is New York still New York without a bit of modesty? Without, even, a few reliable stores of lousiness—reminders that life is not always, relentlessly, oppressively but a proverbial dream?
"I don't get the rationale behind changing [Penn Station]" Chando Mapoma, the luncher at Island Dine, told Mr. Flegenheimer. "I'm not trying to come here to wine and dine." (He allowed that the cockroach was not ideal.) A drinker at Tracks spoke disdainfully of Penn's prettier eastern sibling: "Grand Central," he said. "You have people coming from Westchester."
Writing this afternoon, one poetic commenter, from Los Angeles, remembered his first visit to the train station:
"It felt like I was in the guts of the machine. The glitz of the skyscrapers and parks and nightlife was gone. I stood to the side during rush hour and watched the scurrying as train platforms were announced: what an odd dance that is. I masticated a slice of pizza that had to have been sitting under a heat lamp for hours. I tried to make sense of the signage and the smells. I felt like I 'got' something essential about New York down there, something between order and chaos."