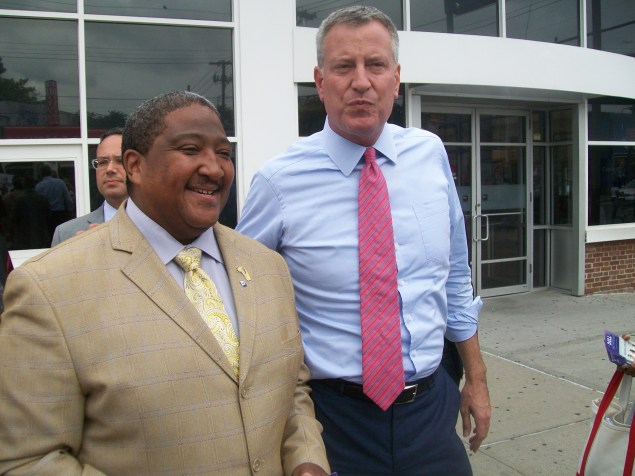 If you're counting at home, Mayor Bill de Blasio endorsed many more winners than losers last night.
State Senator Jeffrey Klein soundly defeated Oliver Koppell. State Senator Gustavo Rivera easily fended off Councilman Fernando Cabrera and State Senator Tony Avella survived a strong challenge from former Comptroller John Liu. Victories were breezy for other de Blasio-approved candidates like State Senators Toby Stavisky, Adriano Espaillat and ex-Councilman Leroy Comrie, who blasted away the indicted soon-to-be ex-State Senator Malcolm Smith. Gov. Andrew Cuomo, of course, still defeated Zephyr Teachout.
Yet the many victories for the mayor's endorsed Democrats obscured several significant losses in contested races where the de Blasio brand was supposed to matter. Of the three candidates Mr. de Blasio personally campaigned with–Pete Sikora, Dell Smitherman and Mr. Comrie–two lost.
"No matter how popular somebody is, usually their endorsement can be overcome by other factors," said Jerry Skurnik, a veteran Democratic consultant. "Part of it is unfair to the mayors who endorse because they only endorse when it's considered somewhat of a contest. The results were striking in Brooklyn, though."
Brooklyn, where Mr. de Blasio has lived for decades, was where his endorsed candidates had the most trouble. Despite campaigning in person for Pete Sikora twice, the economist with the Communication Workers of America lost to Jo Anne Simon, a Democratic district leader, by more than a thousand votes. Mr. Sikora's loss was glaring because it was in the brownstone Brooklyn Assembly district that heavily overlapped with Mr. de Blasio's old City Council district: the mayor's Park Slope row house lies just blocks beyond the district's boundaries.
When he stumped for Mr. Sikora, voters flocked to them both. But the power of the political establishment in the area–many elected officials, like retiring Assemblywoman Joan Millman, Comptroller Scott Stringer and Public Advocate Letitia James, sided with Ms. Simon–and Ms. Simon's longer record in the district won out. The labor-backed Working Families Party, which includes the CWA, also aggressively pushed Mr. Sikora's candidacy; the mayor's endorsement came at least partially because he is close to CWA Political Director Bob Master and he was looking to pay back his support for the de Blasio candidacy during last year's mayoral race, sources say.
A similar dynamic played itself out in central Brooklyn. District Leader Jesse Hamilton, backed by Brooklyn Borough President Eric Adams–the Democrat who held the senate until this year–and other local Democratic power brokers, easily bested attorney Rubain Dorancy, who ran with WFP and mayoral support. The district, rich with black voters that overwhelmingly supported the mayor in 2013, rejected Mr. Dorancy, who was assailed for recently moving from Mill Basin to Crown Heights. The mayor sided with Mr. Dorancy after the WFP and 1199 SEIU–the union most instrumental in his win a year ago–chose the upstart attorney over Mr. Hamilton.
In eastern Brooklyn, twice indicted State Senator John Sampson faced down a challenge from Dell Smitherman, a former political director for 1199. Backed by Mr. de Blasio, the WFP and just about every labor union under the sun, Mr. Smitherman still lost to Mr. Sampson, once the majority leader of the senate, by 14 points. Mr. de Blasio made personal appeals for Mr. Smitherman at a megachurch in East New York and at a subway station yesterday, but the mayor–treated like a celebrity in those corridors–could do little to move the needle against an incumbent with high name recognition and a power base that has yet to erode. (The same was true for WFP, who found themselves in the unfamiliar position of falling to the county organization in many competitive races.)
"It's very important to me to support the candidate I think will be the most effective and most progressive," Mr. de Blasio said yesterday. "Second, it's very important to me to support people who were there for me and took a chance on me. I want to be there for them."
A source familiar with Mr. de Blasio's thinking echoed that sentiment, pointing to the winning endorsements the mayor made to support a "strong Democratic majority" in the State Senate and also argued, as other Democrats did to the Observer, that the Dorancy, Smitherman and Sikora candidacies were all underdogs.
"There were races where the mayor felt like he was going be with people who were there for him last year," the source explained. "I think going into Sikora, Dorancy and Dell, there was an acknowledgment that all three of those were going be a fight, they were running uphill, and there was a good chance the candidates would lose."
In defense of Mr. de Blasio, Mr. Skurnik also pointed out that the liberal Democrat endorsed far more in local races than his predecessors, Michael Bloomberg and Rudolph Giuliani. Mr. Bloomberg and Mr. Giuliani were elected as Republicans and could be polarizing figures in City Hall.
"It certainly seems to me, he got involved in a lot more races than other mayors," Mr. Skurnik said. "More people might have wanted de Blasio's endorsement."