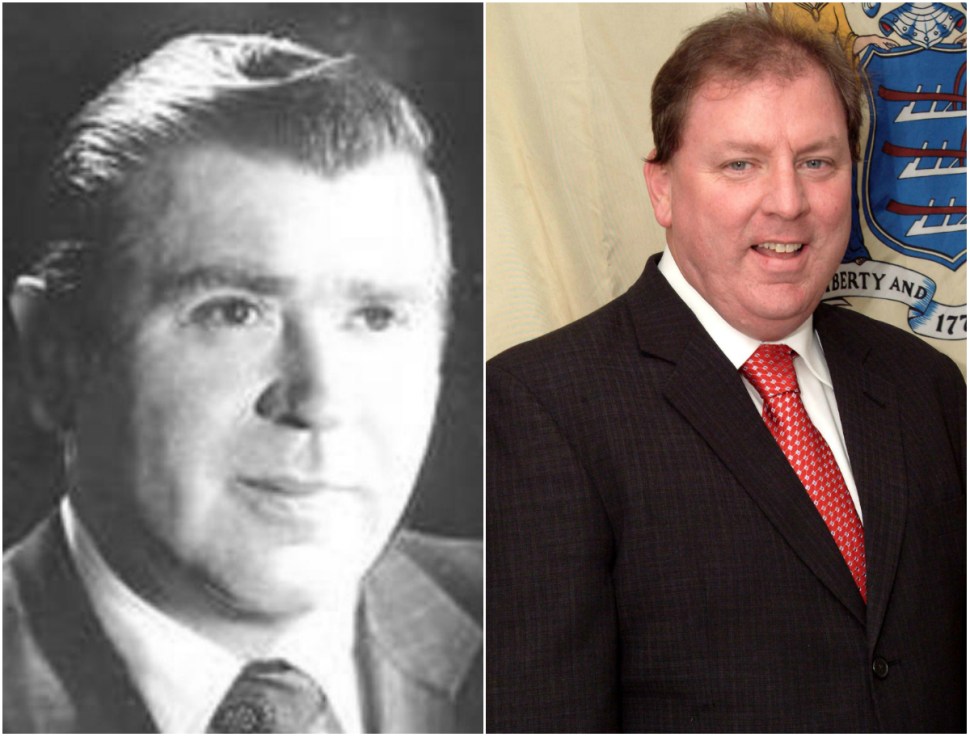 When the late John Cryan gave up the rolling hills of Roscommon, Ireland, in 1948 for the streets of Newark's West Ward in New Jersey, he had little schooling in the ways of politics. But it wasn't long before the Democrat built for himself a legacy whose shadow still casts itself over Essex County's political establishment.
There, in the early 1950s, Cryan's path to elected office began in earnest: he served in the U.S. Army during the Korean War, emblazoned with the title staff sergeant and eventually receiving a Purple Heart for his time in battle. He worked as a bus driver for Public Service Coordinated Transport, now NJ Transit, building connections with and belonging to local labor unions that would benefit him in the future. He bought a local tavern — called Cryan's Beef & Ale House — eventually, which served as an unofficial headquarters for the Newark Saint Patrick's Day Parade and the county's Democratic party.
In 1965, Cryan ran for the state assembly and won, serving until 1967, when he left to play the role of undersheriff to then-Essex County Sheriff Leroy D'Aloia. And after two years out of public office, he made a successful run for sheriff in 1970 against incumbent Ralph D'Amaola, wresting power from Republicans for Democrats in a district long-dominated by the former.
So it's no surprise that even today, throughout much of Essex County, Cryan is still spoken of as highly as he was when his titanic figure towered over the public offices and bar rooms — including his own — that speckled the political playing field of his day. "John was an institution," said Tom Barrett, a Democratic State Committee member who wrote an obituary for Cryan in 2005 in which he declared definitively:  "The world was a different place in 1929 the year John Cryan was born. It certainly is a different place today now that he is gone."
There is another aspect of John Cryan's legacy that continues to take shape, 10 years after his death, however: the developing career of John Cryan's son, current Assemblyman Joe Cryan (D-20), whose own legacy, following recent news that he'll likely replace the late Ralph Froehlich as Union County Sheriff, begins to bear more and more resemblance to his father's.
An assemblyman, former Democratic State Committee chairman under form Gov. John Corzine, undersheriff with the Union County Sheriff's Office, and also bar owner — this time at simply Cryan's — Joe Cryan's political career already shares many similarities with John Cryan's. Both were — are — fixtures of their respective political landscapes, John Cryan's in Essex County and Joe Cryan's in in neighboring Union. Both also command a degree of respect from their constituents that few New Jersey politicians ever do.
Politics, people close to the father and son say, runs in the Cryan family.
Joe Cryan grew up around in the political atmosphere his father cultivated, spending time at the Beef & Ale, becoming an active member of the Union St. Patrick's Day Parade committee, and even serving one year as grand marshal of the Woodbridge parade in his youth. It's the same culture that other prominent Irish-American families, such as the Giblins and Durkins, grew out of, and the early proximity to the pulse of Essex politics likely helped outfit Joe Cryan with tools needed to tackle the same structures in Union County. According Assemblyman Tom Giblin (D-34), it's only natural he would end up treading some of the same path John Cryan did.
"John was a business owner but I have to say his business was people. He was not only big in size but colorful, gregarious, shrewd," said Essex County Clerk Chris Durkin. "And I think Joe obviously looked up to him like many people did."
But Cryan is also in many ways different from his father, friends say, which is why his bid for Union County Sheriff has surprised some.
Cryan is currently serving as acting sheriff following the death of Froehlich, and is poised to run for the Sheriff's Office in November as a likely favorite. Though he'd be moving in an "executive position" — considered by some a more powerful post than an assembly seat because of access to staff and resources — he'd be forced to leave the Assembly, where someone like Roselle Mayor Jamel Holley would take his place. Union County sheriff is a three term post, and there's no word yet on whether Cryan would seek further terms, though Giblin said he "thinks Joe could be there for as long as he wants to be."
The problem is, others say, that unlike his father, Joe Cryan's personality doesn't fit the position. Seen as a keener strategist than John Cryan and an at-heart policy wonk, they never considered Joe Cryan's calling to be sheriff. As a politician who once had aspirations for state senate — Cryan began his political career mulling a senate run but gave it up when current state Sen. Ray Lesniak (D-20) never retired — insiders say they evisioned Joe Cryan eventually moving into the legislature's upper house, where his natural aptitude for policymaking could be put to better use.
"John was this larger-than-life character," Durkin said, who added that the inevitable appeal to recreate in Union County what his father built in Essex is likely what's pushing Joe Cryan towards the sheriff's seat. "Joe's more of thinker, he gets into the nuts and bolts of things."
Another Trenton source lamented what appears to be the younger Cryan's retreat to Union County from the legislature after standing up to his own party's pro-Chris Christie positions on collective bargaining, healthcare and public pensions and benefits, and losing his leadership position as majority leader in the Assembly two years ago.
"Just a sad statement on our party," said the source, "and a stand I would imagine… his old man would have been proud of."
Still, others maintain that Joe will likely do well wherever he lands. "He has the savvy and the intelligence and the political skills to make him successful," Giblin said. "Even beyond his legislative borders he's known as a person who reaches out and tries to help."
"I think it's in his DNA," Barrett added. "It's a smart move for him, and I think it's a good move for Union County. They'd be well served to have someone like Joe Cryan in that spot."