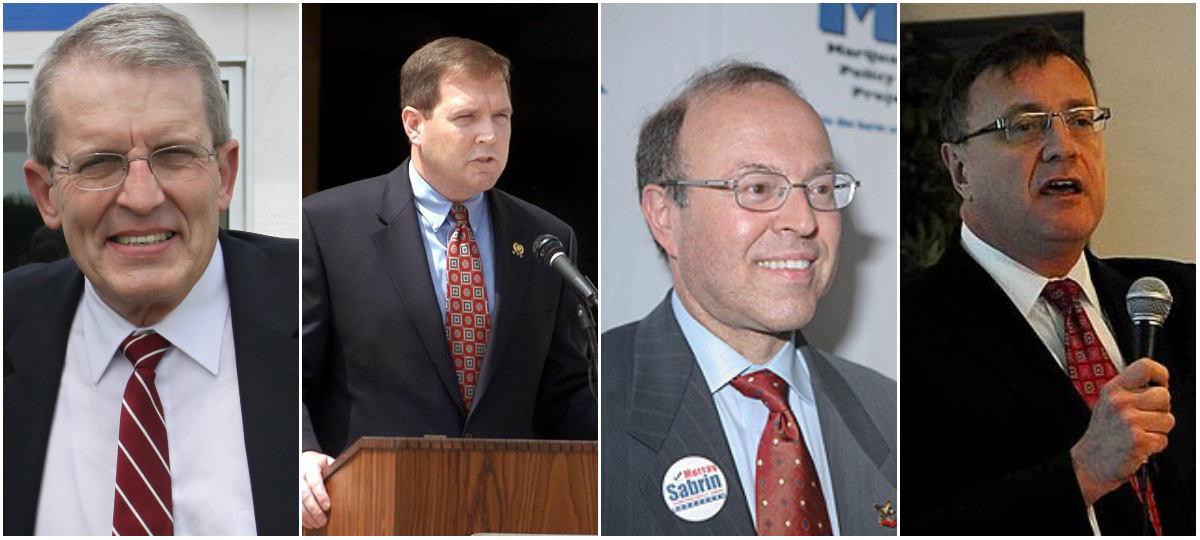 U.S. Senator Cory Booker (D-NJ) kicked off his fall re-election campaign this week by reaming his opponent, Republican Jeff Bell, over all the things a popular, liberal-minded incumbent might take issue with in a policy-minded conservative who's spent the last 30 years of his political life living in Washington D.C.
Lobbyist. Washington insider. Perpetuator of "defunct and defective" Nixon-era ideologies.
It was a verbal assault that should have (or, at least, that one might have expected it to have) drawn an immediate response from Jeff Bell for U.S. Senate cheerleaders across the state. Particularly, one might have expected a reaction from fellow conservatives in Trenton, rushing to the defense of the scrappy-but-sure Republican hopeful who's dared to take on one of the Democratic Party's brightest stars.
The actual response from members of the GOP establishment in New Jersey following Booker's tour? Crickets.
A 70-year old policy wonk and former political speech writer with a tea partyer's political philosophy, Bell is by no means a member of the mainstream GOP. His views have been labeled by some as alternative, and he's made the pillar of his campaign in this race about bashing the Federal Reserve and bringing back the Gold Standard, an argument that few conservative politicians with aspirations for higher office are willing to touch (save, of course, someone like Ron Paul). So it's understandable, maybe, that Republicans aren't flocking to Bell's defense, en masse, for every critique hurled at him.
But Bell is the sole Republican nominee in this year's U.S. senate race against Booker, and thus Republicans' only chance at putting one of their own in Washington in November. And despite the arguments of those who maintain that the relatively obscure Bell hasn't a chance in hell at beating the massively popular, well-funded Booker, recent polling does show him within 10 points of the Democratic incumbent — a gap which is significantly smaller than the one Steve Lonegan, Booker's primary opponent during last year's special election, managed to achieve.
Why, then, hasn't the state's GOP — that hodgepodge coalition of tea-party conservatives and right-wing ideologues on constant defense against the state's Democratic majority — come together definitively in support of Bell?
PolitickerNJ spoke to three conservative politicians in the Garden State who tried to answer — or refute as illegitimate — that question, each themselves anti-establishment Republicans in their own ways. Two have ran for the exact seat Bell is campaigning for, while one works in Trenton. All agreed Bell has a good shot at beating Booker in November.
"There certainly is a divide in the GOP on many public policy issues," Murray Sabrin, a professor of finance at Ramapo University who ran for the Republican nomination against Bell during this year's primary race, said. "Jeff and I were seen as coming from the same playbook in terms of the economy — the government is taxing too much and printing money like it's going out of style."
Like Bell, Sabrin's views are somewhat unorthodox. An "everyman in New Jersey politics" who sees Washington mired in "crony capitalism run amok," Sabrin ran his campaign earlier this year on arguments that called for scaling back the size of the federal government, reducing spending "and taxes and regulations and things like that." But he said while conservative issues at heart, those goals become distorted among GOPers looking to play to the status quo.
"The issue for me comes down to, what's the call for Republicans in governing?," he asked. "Is it to better manage the welfare state than the Democrats? Or is it about rolling back the welfare state which is what I believe in?"
Sabrin points to that Republican divide as the reason for why Bell, despite advocating for policies that are very "appealing to the average, working men and women of New Jersey," hasn't been able to earn the full, uninterrupted attention of Republican lawmakers in Trenton.
Many Republicans simply aren't that type of Republican, he said.
But despite Bell's reputation as a political outsider among members of his own party, the interesting thing is that Booker has attempted to brand him as just the opposite: a Washington insider who's lobbied in Congress, a master mind behind the campaign speeches of Republican president like Ronald Reagan, and author of a book "literally about partisan politics," in Booker's words. At a campaign stop Tuesday, Booker told a crowd of supporters: "New Jersey does not need more Washington experience. What Washington needs is some New Jersey experience."
It's a role reversal that Bell must work to counteract, according to both Sabrin and Steve Lonegan, Booker's opponent during last year's special election to replace outgoing Frank Lautenberg (D-NJ). Lonegan calls Booker "the consummate Washington insider," a fact he says Bell should emphasize throughout his campaign.
"He's been funded by the Hollywood elite, he's been funded by Silicon Valley and Wall Street moguls," Lonegan said of Booker. "This guy, if you look at his disclosures from last year he's been running off and doing all kinds of high dollar speaking elections during the election which he failed to disclose. So to say that a guy has spent his entire life making this phony image of some sort of great mayor, he's a total failure for Newark, this guy is nothing but a political animal."
Sabrin agrees: "He's a career politician, and his whole career has been about attaining political office. Just because Jeff geographically has been living and working in Washington doesn't make him an insider. He's probably on of the most vocal critics of government policy there is in the country."
Meanwhile, "Booker is part of political establishment," Sabrin added. "He wants to see big government grow and grow."
Booker's financial and political connections have put him at an advantage in the race, however, boasting a $3.5 million war chest that includes donations from top Wall Street and Washington players. He's used that money to kickoff a campaign this week where he hit three different cities — one in South Jersey, one in Central Jersey, and one in North Jersey — all in the same day. He's also spent time stumping for vulnerable Democrats across the country, traveling to states like Oregon and Washington this month.
Bell, alternatively, has $0 in the bank as of June 30, and has been running his campaign out of a hotel lobby since early this summer. "We're broke," he told the Weekly Standard earlier this month.
But Bell has one weapon Booker lacks, according to Lonegan: "He's not going to go to Washington and support Obama's failed agenda."
"That's it. That's the whole campaign," Lonegan said. "He's not an Obama clone, he's not going to continue this whole dismantling of America's world leadership, the economy, in a country where we've accepted a 6 percent interest rate as the new normal. What your seeing today, this stagnant economy, inflation — this is the new normal under president Barack Obama."
Lonegan contends that if Bell can distance himself from Obama — and thus Booker, who seems to have made it a point to not bring up the president's name out of fear of association, presumably (he didn't mention him once during his tri-city tour Tuesday) — as well as run an aggressive campaign, "he wins the election," Lonegan said.
"He has to define Booker early and tie him to Obama's failed economic agenda and failed foreign policy agenda," Lonegan said, noting that, within 8 points of Booker right now, Bell is further ahead in the polls than Lonegan was this time last year. "So he's in a much better position than I was. And then what's going to happen is your going to see money pouring in from all over the country, and people waking up and realizing this is a real race."
"Unless the pull what they did with me, which is sabotage the campaign by shutting down government," he added.
Sabrin argues that Bell will have to work to win over independents, one of the state's largest voting blocs, to be competitive. "Republicans will get a high percentage of Republican voters and maybe some dissenting Democrats but you've got to bring in those who are independent to take you over the top," he said. "If Jeff can put together that coalition — I think the polls show right now that he's competitive. The question is how will that break in November.
"The fact that Booker is not over 50 percent I think is very troubling for a guy who's supposed to be so popular," he added. "If the GOP gets behind him with the necessary dollars I think he'll be extremely competitive."
Still, it's unclear whether the GOP establishment in New Jersey is behind Bell. It didn't seem like it was this week, and it has yet to raise any money for the candidate — though Republicans like Christie and Assemblymen Jay Webber and Michael Patrick Carroll have agree to lend a hand in Bell's campaign. Two fundraisers are scheduled for the fall, one later this month at the Hyatt Regency in Princeton that the governor will attend.
State Senator Mike Doherty (R-23) admits Bell's campaign has been "a little quiet" but argues that there looks to be some effort on the part of Republicans to rally behind the candidate. "Certainly Gov. Chris Christie is using the forces of this state GOP to get behind Jeff Bell and that's certainly a good sign," Doherty says. "It's always going to be an uphill battle, it's a Democrat leaning state and he's going up against a Democrat incumbent, but I think people are mobilizing."
"Frankly I don't recall the GOP doing a big fundraiser for Steve Lonegan," he added.
Doherty, who "stands behind Ron Paul," the congressman from Texas and father of Kentucky Senator Rand Paul who ran for president last year (and in years before that) on an ideological platform similar to Bell's, also sees a division between grassroots Republicans and upper-tier "neocons" in Washington. "There's very little difference between someone like Hillary Clinton and some of the top Republicans — they both stand for the same things, and Booker is one of those," Doherty says.
"And I don't think Booker is any different than the neocons out there who want endless war, and just want to bomb everyone," he said, adding at the jury is still out on where Bell stands on foreign policy issues. "How about civility? How about being smart? How about sitting down with some of these folks and finding out what there issues are? I don't subscribe to the foreign policy view that half of the world is crazy and you can't work with them."
Lonegan disagrees that the national GOP is fractured, maintaining that he sees "a party that's unified by one thing, which is ending Obama's control of Washington, taking back control of the senate, keeping control of the House of Representatives, and putting forth our best Republican candidate two years from now for the presidential race. "
"The only thing you could call hesitation," he added of Bell's challenge in winning GOP support in New Jersey, where the last Republican senator was the late Cliff Case, "is after 40 years of Republicans not winning the seat, people just throw up their hands, which they shouldn't do. People are just so used to Republicans not winning."