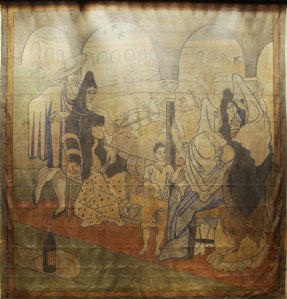 The curtain's about to close on an iconic work of art at the Four Seasons. After 55 years gracing the restaurant's walls, Picasso's 19-by-20 foot tapestry "Le Tricorne" will move on Sunday to the New York Historical Society, the New York Post reports.
The decision follows a longstanding feud between the restaurant's landlord, RFR Holding LLC, and the Landmarks Conservancy over whether the painted curtain was too delicate to move. According to the Daily News in June, RFR owner Aby Rosen said the painting needed to be removed to allow for repairs to the nearby wall. Mr. Rosen subsequently made a deal with a concerned Landmarks Conservancy to relocate the painting to the Historical Society at his own expense.
The curtain, painted by Picasso for a 1919 French production of the ballet "Le Tricorne," has hung in the entryway of the Four Seasons since the restaurant opened in 1959. Now, Picasso lovers have just four more days to see it before it gets a new home.
"During that time, we'll enjoy it and give it the standing ovation it deserves after nearly six decades as the backdrop of wild parties and quiet moments when families celebrate life's milestones," Four Seasons co-owner Julian Niccolini told the Post. "Everyone is welcome to stop in and see it before it leaves."