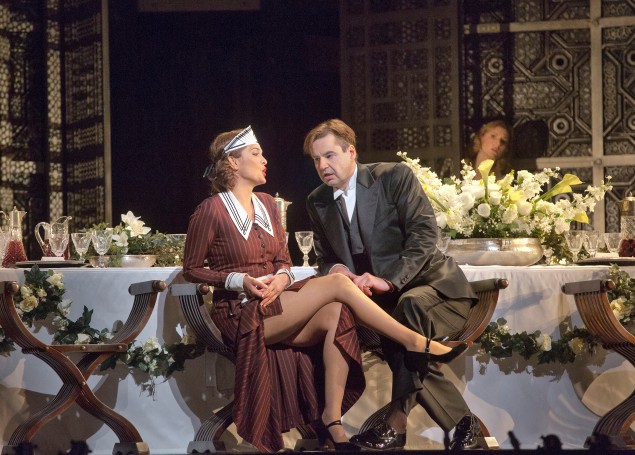 The combination of the Metropolitan Opera's opening night—one of the most glamorous social events of the year, in theory at least—and a new production of Le Nozze di Figaro—which is, after all, about a wedding—should result in a doubly gala event. So it's twice as disappointing that Monday night's performance of the Mozart masterpiece turned into a four-hour fizzle.
About the only excitement in the area was a demonstration against the Met's controversial programming of The Death of Klinghoffer. Several hundred protesters crowded into Dante Park across Columbus Avenue from Lincoln Center, brandishing signs with slogans like "Shame on Peter Gelb" and "Tenors and Terrorists Don't Mix." They fell silent, though, as Figaro began, relayed onto a giant outdoor screen in the Plaza for an audience of several thousand.
Inside the theater, the only hint of scandal or even surprise arrived within the first three minutes. The show began with the curtain already up, showing a hallway in Count Almaviva's mansion, the setting for the opera. As music director James Levine led the orchestra in a breezy, unhurried account of the famous overture, a topless young woman ran on stage, hastily slipping into a bra, with Count Almaviva (baritone Peter Mattei) in hot pursuit. The set revolved to reveal various rooms in the mansion as the lecherous nobleman sauntered about in his dressing gown, sipping coffee and putting moves on a chambermaid.
While this pantomime distracted from the music, it did have a point: the jumping-off point for this opera is the Count's serial sexual harassment, as thorny a problem in 18th century Spain, where Figaro is originally set, as it is today.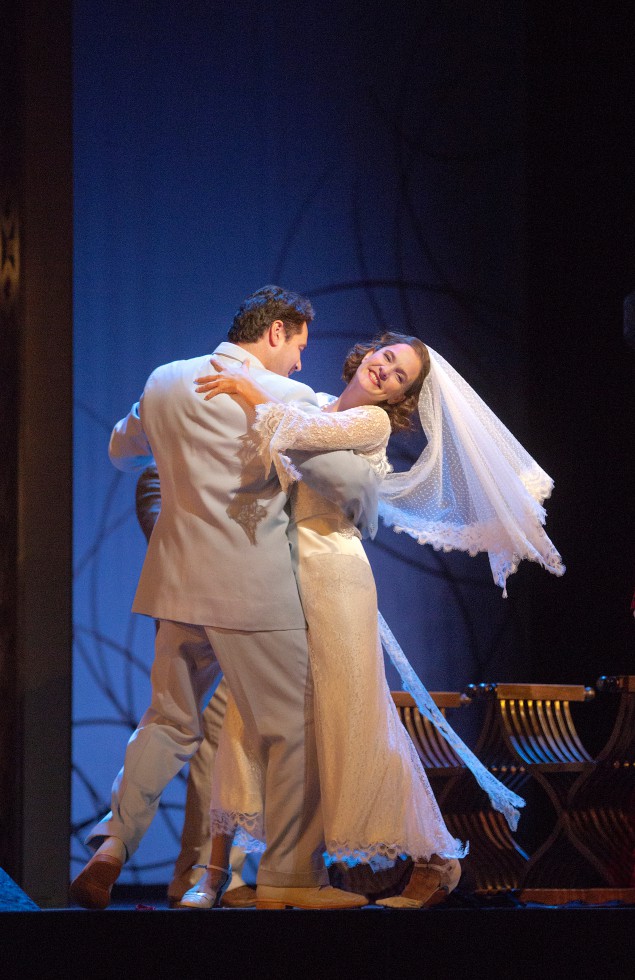 The comedy unfolds on the wedding day of the Count's valet Figaro to Susanna, lady's maid to the Countess. The Count has been making unwelcome passes at the levelheaded Susanna, so she bands together with her fiancé and her mistress to teach the lecherous nobleman a lesson. Complicating the action is a gaggle of hangers-on in the Almaviva household with grudges against Figaro, as well as the page Cherubino, who has a severe adolescent crush on the Countess.
Director Richard Eyre placed this complicated, fast-moving story on a turntable revealing a number of turret-shaped chambers with walls of Arabic-style mashrabiya latticework, which is seen in some ancient Spanish buildings. Scenes could shift quickly without an intermission, as when the ballroom in act three transitioned into the garden setting for act four, a single giant pine encircled by a spiral staircase leading to a lantern-lit treehouse.
In practice, though, the unit set didn't offer much variety. Because the rooms were all placed around the circumference of the turntable, the playing area was very shallow, with the singers either bunched up around a single piece of furniture within semicircular walls, or else simply lined up at the edge of the stage. The arrangement of the set was confusing, too: at one point Susanna exited stage left to go to the Countess' boudoir, which then appeared from stage right.
What's worse, designer Rob Howell devised a drab palette for costumes and sets running the gamut from sepia to bronze, under harsh yellow "sunlight" designed by Paule Constable. This chiaroscuro might be appropriate in, say, a Dickens tragedy or a melodrama about the Great Depression, but it weighed down this romantic comedy.
Even more puzzling was Mr. Eyre's decision to update the action from circa 1780 to the 1930s. The sexual politics and the class conflicts played out as they would in any other Figaro, though the servants' lax standards of behavior belonged in neither period. For instance, a valet would never casually sit on a bed in the presence of the lady of the house. Otherwise the "concept" added up to no more than minor details of costume: the Count sported a tuxedo and bow tie rather than a frock coat and lace jabot. The dancing at the wedding, marked as a "fandango" in the score, inspired only a meek foxtrot from choreographer Sara Erde.
Also superficial was Mr. Eyre's handling of the characters. Some of the singers, such as soprano Amanda Majeski as the Countess, underplayed to the point of passivity; others, notably bass-baritone Ildar Abdrazakov's Figaro, mugged and winked outrageously. The delicate, troubling denouement of the work, when the Countess hesitantly forgives the Count, was played as a musical comedy clench and smooch; the audience chuckled.
Oh well, the Met has lots of tedious productions in its repertory, so one more doesn't mean the end of the world. What was more disturbing, though, was Mr. Levine's shaky guidance of a piece he's previously led at the Met in more than 70 performances in three productions. A year after his two-season hiatus to cope with injuries and surgery, his conducting remains uneven.
This Figaro began brilliantly, but less than a half hour in stalled on Cherubino's aria "Non so piu," a breathless depiction of a teen boy's giddy discovery of the opposite sex. Mr. Levine began this piece at an eccentrically deliberate tempo, as if he were rehearsing an orchestra on a piece they'd never seen before, and it just got slower and slower. Raven-haired, button-eyed Isabel Leonard, the Cherubino, has the kind of light, cool mezzo that generally sounds more attractive at a brisk tempo; here, though, she struggled just to move from phrase to phrase. (That's a real pity, because I have never seen a performer in this role who more realistically resembled a pretty young boy.)
The low point of the performance, sadly, was in the moment of Mozart's most prodigious invention, the long and dazzling finale to the second act. The pace is supposed to build gradually to a dizzying prestissimo ("as fast as possible"), but that's not what Mr. Levine did. The energy seemed to seep steadily out of the music like a battery running down, and his ultimate tempo was nowhere near as fast as the virtuoso Met orchestra can play—and has played, in performances he led from the 1980s to the early 2000s.
To be sure, there were no outright train wrecks, and Mr. Levine's off nights are as good as many other conductors' on nights. The problem is, he didn't use to have off nights, ever. Now, on the evidence of this Figaro and last season's Falstaff, he sometimes does.
If there was anything gala about the cast for this performance, it was Mr. Mattei's Count, a vigorous portrait of a charming rat, sung in a warm, cello-toned voice with just a dash of tartness to suggest the character's dangerous side. If his Italian is only very good, his legato is simply exemplary. They ought to bus in young singers to hear just how elegantly Mozart can be sung.
Mr. Abdrazakov won a big hand at his curtain call, but I felt like there was something a little flabby about his work here. His voice sounded generous but unvaried, and his acting consisted of a jumble of bits and double takes instead of a real characterization. In contrast, soprano Marlis Petersen made a real and delightful person out of Susanna despite a scratchy, breathy quality in her tone that thankfully resolved itself in time for a charming, understated performance of her last act aria. (She might have made even more of this intimate piece had not Mr. Eyre staged it with half the cast pointlessly lurking onstage.)
The heartbreaker of this performance was Ms. Majeski, who was promoted from understudy to lead status only five weeks ago. The tall, blonde 29-year-old looks lovely onstage, even in the frumpy costumes she's given to wear in this production, and her voice seems to be a fine, healthy instrument. But her cool, flickering soprano turned wiry in softer passages, and two tricky high C's in the second act emerged as nervous squeaks. Whether her dreary passivity onstage was a reflection of innate timidity or poor direction is hard to say, but this was a Figaro without a Countess, which is a Figaro without a heart.
It was an understudy's performance, which is not something that belongs on the Met's stage on opening night. In Ms. Majeski's defense, not much else in this Figaro belonged there either. On the bright side, though, the season, so recently endangered, has launched. And the next Met Figaro can't help but be an improvement on this one.