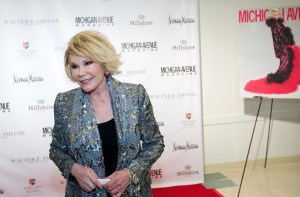 Joan Rivers' cardiac arrest, which led to her death one week later, allegedly occurred during an unauthorized biopsy of her vocal cords at Yorkville Endoscopy clinic in Manhattan, CNN reports.
Rivers, aged 81, arrived for an endoscopy performed by the clinic's director, Dr. Lawrence Cohen. As told by a staff member to CNN, Rivers' personal physician—identified by TMZ as Dr. Gwen Korovin—stepped in after the procedure.
Dr. Korovin, a well-known ear, nose, and throat doctor whose long list of celebrity patients includes Hugh Jackman and Nathan Lane, was not certified by the clinic. The Daily News reports that Rivers brought Dr. Korovin along to the initially scheduled endoscopy and that Dr. Korovin, after a doctor at the clinic discovered that something may be wrong, insisted she perform the biopsy–for which she did not have Rivers' prior consent, CNN's source claims.
While Rivers remained under anesthesia, Dr. Korovin allegedly took a selfie in the operating room.
Rivers, who investigators believe suffered cardiac arrest as a result of vocal cord swelling and a loss of air supply, was rushed from the clinic to Mount Sinai Hospital, where she died eight days later.
Yorkville Endoscopy denies that the biopsy took place but confirmed to CNN that Dr. Cohen "is not currently performing procedures… nor is he currently serving as medical director."