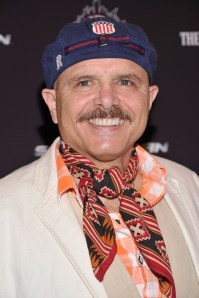 If you have watched any movie or TV show at any time since 1974, chances are you've seen Joe Pantoliano in something. The Goonies? The Matrix? The Fugitive? You know, that guy.
Mr. Pantoliano has made a career as a, for lack of a better term, character actor, earning his keep by delving into hundreds of diverse roles, never quite the leading man but always integral to the plot. For TV addicts like me, Mr. Pantoliano might be most recognizable as Ralph Cifaretto, the skeezy mafia man on the Sopranos, a show that seven years after its finale is still controversial, and pioneered the way for the Walter Whites, the Rust Cohles, and even the Don Drapers of today.
The funny thing is that when it comes to these two terms — "character actor," "pioneer" — Mr. Pantoliano rejects both.
I spoke with the Hoboken native in preparation for movie number 100-and-I-don't-even-know The Identical, which opens on Friday. The conversation eventually turned to television, as it so often does these days. "That's where the audience is," he told me. I asked whether he ever felt partly responsible for the surge in great TV we are experiencing because of his part on The Sopranos. He paused, then laughed.
"I was lucky enough to just be cast in it," he said. "But a pioneer? No. Pioneers, they know the danger ahead. [The Sopranos] didn't exactly have to mess around with Indians or the Donner Pass, you know?"
And while he agrees The Sopranos made its mark for sure, today's golden age of television is more a testament to those that built off the HBO hit's success.
"It just goes to show you how many creative people are out there," he told me. "How many smart people have magnificent imaginations, that go out there and reinvent the wheel every day."
As for being a character actor, maybe I was a bit misleading before. He doesn't exactly reject the title, nor does he exactly deny it. But then again, he doesn't think it particularly sets him apart from the Pitts and the McConaugheys — those golden, untouchable Hollywood leading men — either.
"I think that playing characters, that's what I find interesting. I think all actors are character actors," Mr. Pantoliano said. "We're all creating a character, or the character is creating us. You kind of meet it halfway. But even now you see more leading men doing character roles because of the benefits, because it's a business model now. You do a great character part, get nominated for a supporting role, go and win your Academy Award that way."