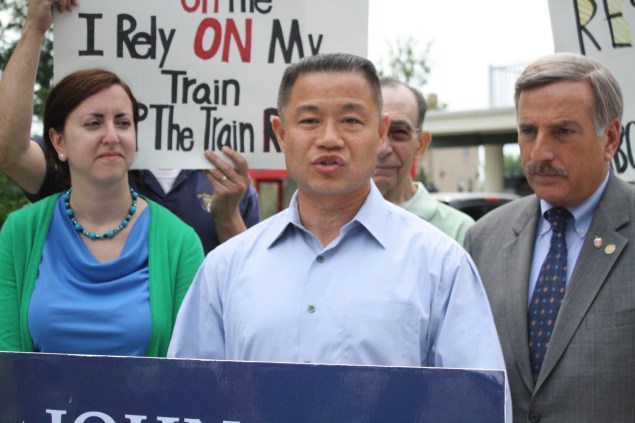 John Liu's comeback bid is over.
The former city comptroller and mayoral candidate formally conceded to State Senator Tony Avella this morning, acknowledging that a gap of 568 votes was too great to overcome with paper ballots.
"Public service, to me, is a calling, not a career, and this race was always about the opportunity to continue to serve our community," Mr. Liu said in a statement. "While we may have fallen just short in the voting booth, our message resonated loud and clear – the people of this district want a true Democrat who will stand up for our progressive values and we will hold our elected officials accountable by their actions, not just their words."
The Queens Democratic Party, led by Congressman Joseph Crowley, coaxed Mr. Liu into running in a Democratic primary against Mr. Avella earlier this year. Drawing on the support of local elected officials, a bevy of unions and a significant fund-raising advantage, Mr. Liu came last week within 5 percentages points of knocking off Mr. Avella, according to unofficial Board of Election returns.
But it was always an uphill slog for Mr. Liu in an oddly-shaped eastern Queens district where Mr. Avella, despite his alienation from the political establishment, remains popular. Mr. Avella's win came as he crushed Mr. Liu in the heart of the district–the 26th Assembly District, including the neighborhoods of Whitestone, Bayside, Bay Terrace, Little Neck and Douglaston–by nearly 1,000 votes. Assemblyman Ed Braunstein, one of many Queens Democrats to back Mr. Liu, represents the district.
The campaign was bitter. Mr. Liu repeatedly railed against Mr. Avella for betraying mainline Democrats by joining the Independent Democratic Conference, a breakaway group of Democrats that govern the senate with the Republican Party. Mr. Avella attacked Mr. Liu for the fund-raising scandal that sunk his mayoral bid, along with unpaid fines for campaign signage from his 2009 comptroller bid.
Mr. Liu's concession did not mention Mr. Avella by name. The former comptroller took credit for "holding our Senator accountable, and the close results of this election prove that the voters are demanding a true Democratic majority in the Senate." Ironically, a deal to secure the Democratic majority may have cost Mr. Liu the election: he lost much of his coveted labor backing, like the Working Families Party, after Mr. Avella's IDC agreed this Spring to govern with the Democratic conference next year. Mayor Bill de Blasio, a proud progressive, subsequently endorsed Mr. Avella, along with 1199 SEIU and other unions.
Mr. Liu's political future is not entirely clear. He appeared at a fund-raiser for the Brooklyn Democratic Party yesterday, declining to speak about his plans with the Observer. There are no obvious posts for Mr. Liu, who still harbors Gracie Mansion aspirations, to seek.
The New York Daily News first reported Mr. Liu's concession.