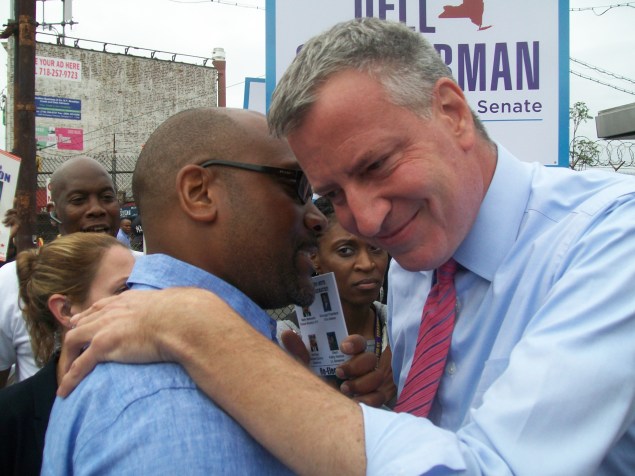 When Mayor Bill de Blasio came grinning to greet commuters on the last stop of the L train in Brooklyn, he encountered an unexpected guest.
Waiting for him this afternoon was not only Dell Smitherman, the Democratic candidate for State Senate the mayor is hoping to elect, and the many sign-wielding union members canvassing for the former 1199 SEIU operative. Standing calmly nearby, with his own band of shouting supporters, was State Senator John Sampson–the man Mr. Smitherman is trying to knock out tonight.
"Who do we want? John Sampson! Who do we want? John Sampson!" volunteers in Sampson shirts cried as Mr. de Blasio made his way to meet Mr. Smitherman. It was a sign that even in Canarsie, Brooklyn, an area in which Mr. de Blasio remains very popular, his endorsement is not nearly enough to temper enthusiasm for the twice indicted incumbent.
As Sampson volunteers threatened to drown out Smitherman supporters, Mr. de Blasio walked over to Mr. Sampson, the hulking former majority leader of the State Senate. The two Brooklyn Democrats shook hands and whispered to each other. Shortly after, the Sampson army retreated.
"I've known John a long time and I just said, 'look, I think we can have a situation here where the two sides each take their own ground and, you know, [meet] the voters and not get in the way of each other," Mr. de Blasio told reporters after the exchange. "He thought that was fair and I thought that was gentlemanly of him."
Mr. Sampson's surprise appearance–which the senator insisted was a coincidence–didn't exactly please the mayor.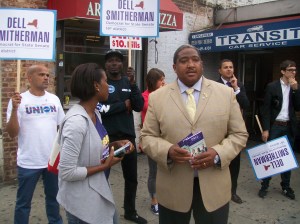 "I've seen it a thousand times. It's nothing new, I think people do it all the time–not my cup of tea, but people will do it all the time," he said.
Mr. Sampson was twice indicted on embezzlement charges and lying to FBI agents, pleading not guilty to both. Booted from his caucus, Mr. Sampson's clout in Albany is severely diminished. But in his eastern Brooklyn district, support for Mr. Sampson is palpable and Smitherman backers privately fret that Mr. Sampson could survive, even with labor unions united to defeat the incumbent. The Brooklyn Democratic Party, ever loyal, is still in Mr. Sampson's corner.
Coolly surveying the scene as his volunteers raced to pass out palm cards that showed Brooklyn Borough President Eric Adams (a non-endorser) and ex-Borough President Marty Markowitz (reportedly an actual endorser), Mr. Sampson said he expected to win.
"Life is good," he told the Observer. "I am a man among the people. I put people first."
Mr. Smitherman, a first-time candidate, was perturbed–but not surprised–that Mr. Sampson crashed his big afternoon event with the mayor, who posed for pictures outside the train station like a celebrity.
"It's more of the same," Mr. Smitherman said, calling the Sampson rally a "last ditch effort." "It's what we're gonna overcome and move the community forward."
He added, "This is desperation tactics."