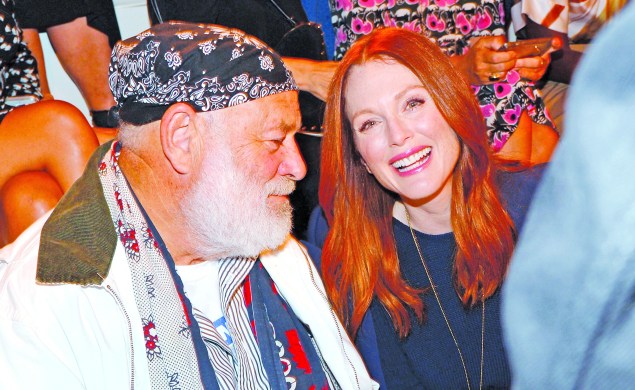 "This is Saint Laurent, this Saint Laurent," catalogued dance music megastar, David Guetta, as he navigated his black leather look to Shindigger from inside his VIP trailer at the Electric Zoo festival. "But his is from Alexander Wang," he assured us, checking his collar. It was a few days before New York's fashion week would truly get underway and we asked of his plans.
"New York is amazing for fashion," he proclaimed. "Years ago I used to come here for fashion week." Unfortunately, this round, he was purely committed to promoting new single, "Lovers in the Sun." "I just can't play my old hits," he bemoaned, referencing his chart-smashers "Titanium" with Sia and "Without You" with Usher.
As we bid him adieu, Shindigger snagged a glance at his footwear and enquired, "Who makes those shoes?"
---

$2,995
Cost of Giuseppe Zanotti's 4.3-inch black calfskin buckle booties


20
Approximate number of BLEEPS required for Nicki Minaj to perform 'Anaconda' on live TV.


---
"Nike," he told us with a massive grin.
"I never wear heels!" wailed Donna Karan a few days later as she stepped gingerly down the marble steps of David H. Koch Theater at the conclusion of the Couture Council's luncheon.
"I won't even make it to my car," another editor in snakeskin platforms yelped as she teetered to an opposite exit.
Men's easy ride shoe-wise becomes ever-so clear during the pushy, mass exoduses at the conclusion of any runway show. While exiting Jason Wu's show on the staircase at Spring Studios, Shindigger witnessed one front-row fixture eat shit while others trampled on by.
Jean Shafiroff, who served as a co-host for last week's New York Women's Foundation luncheon at Le Cirque, had a more tolerant perspective: "I just bought these," we recalled her telling us and pointing to an ambitious pair of Louboutins. "Who cares if they're comfortable?" she laughed.
"I'm Just trying something new," divulged Nicki Minaj on the red carpet at Brooklyn event, "Fashion Rocks," at the Barclays Center. The stadium soirée included performances by Usher, Enrique Iglesias and KISS.
"It's gonna be very sexy," the risquée chanteuse gushed before her turn on stage. "It's gonna be bump and grind and it's gonna be fun."
"Who makes your shoes?" Shindigger screeched out to the dismay of a protective publicist.
"Giuseppe Zanotti," she giggled of her bejeweled and golden 5″ stilettos, before storming off to enter stage left.
Nonetheless, it wasn't the bedazzled Italian footwear that stole the show at the live television event. Jennifer Lopez performing her raunchy dance track "Booty" scored the highest, loudest screams and naturally, she was not wearing flats. Shindigger would not assume to judge the art of choreography in great depth but knows enough to conjecture that 'booty' and heels go together like the proverbial horse and carriage. And besides, any 45-year-old who can jiggle it like Ms Lopez deserves her millions. Ms. Minaj's rendition of her song "Anaconda," also shut the house down, she was accompanied by shirtless and chiseled male dancers who humped, pumped and generally got down.
"It's always over so ridiculously quickly," confessed Duran Duran's Nick Rhodes, the following evening at our favorite downtown resto, Indochine, where Prada and The Cinema Society hosted a screening of The Weinstein Company's "The Disappearance of Eleanor Rigby."
"There was a great vibe backstage and I love the arena," he praised of Fashion Rocks where the band has crooned. "It was complete bedlam, though."
"Tell us about those dress shoes?" Shindigger demanded, pointing south.
"I think they're Dior Homme," Mr. Rhodes, always the most fashionable of the 80s New Romantic heroes responded. "Although last night it was three-out-of-four for Saint Laurent with the band members," he said of their wardrobe.
"I'm wearing Michael Kors," Nina Arianda admitted to Shindigger as she milled between her cast members from the flick: James McAvoy, beside the bar, and Jessica Chastain, cozy in a banquette that served as a shrewd obstacle from the unwanted.
"They are surprisingly comfortable," the Tony-winner cooed. "I also love Stuart Weitzman."
"Wedge or heel?" we blurted back.
"A wedge, always," she replied with a giggle. "I'm a New Yorker!"
Ralph Lauren finished our frenzied fashion week schedule and, frankly, Shindigger couldn't have been more overjoyed about the conclusion of catwalks. While our feet hadn't suffered much discomfort, we were exhausted from the drama, mayhem and endless slew of engagements.
Looking considerably more fresh and bubbly, sandwiched between the Lauren clan, was the ever-glowing Julianne Moore. Festooned from heels to head in Ralph Lauren, she would soon inform us from her front row spot.
"What did you think of those python and calfskin safari platform sandals?" Shindigger asked the actress, moments after Manhattan's style kingpin had taken his bow.
"I thought the accessories were amazing!" Ms. Moore raved. "I loved all that jewelry," she said shifting directions. "There was a white dress with crystal earrings. I thought it was gorgeous."