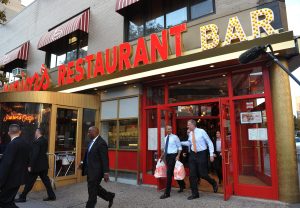 The best cheesecake in New York isn't going anywhere, the New York Times reports.
Alan Rosen has owned the two-story building that houses the classic Junior's restaurant in downtown Brooklyn since 1992, when he succeeded his father and took over the family business.
In February, Mr. Rosen received countless offers to buy his section of prime real estate residing on the corner of Flatbush and DeKalb Avenues. The highest offer was made by broker Robert Knackal at a pricing record of $45 million. Mr. Rosen considered the offer, but when plans for the new high rise condos that would be built in its place didn't include space for Junior's on the ground floor, he had a change of heart.
"This is Junior's identity, is this building. This is the one where I came on my first dates. It's where my family spent most of their waking hours," he told the Times. "Not the one down the street, not the one below 20 stories of condos. This one."
The red and gold retro sign has attracted all kinds of New Yorkers since the 1950s, from politicians to celebrities to locals. That legacy made Mr. Rosen think twice about selling. He told the Times that Junior's isn't just a restaurant, but a tradition.
"It just can't be replaced," he said.